Photo by Hubble Ray Smith.
Originally Published: August 28, 2017 6 a.m.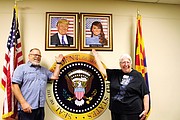 Donald Trump's portrait has been added to the Presidential Gallery at Mohave Museum of History and Arts, one of only three collections of presidential portraits by renowned painter Lawrence Williams.
Another collection is displayed at the Library of Congress in Washington, D.C., and the third is said to be in the basement of a state legislator, though nobody knows who or even which state, said Vicky Markee, office manager and tour guide at Mohave Museum, 400 W. Beale St.
What's unique about the museum's presidential portrait display is that it includes all the presidents' First Ladies, which in some cases isn't their wife, but a close family member, Markee noted.
James Buchanan never married, so his niece stepped in for the portrait, she said. The portrait of Martha Jefferson isn't Thomas Jefferson's wife, Martha, who died before he took office, but his daughter.
"Oh, it's really nice to see the wives and First Ladies next to their husband," Markee said Thursday as tourists from California and Japan trickled through the gallery. "You always see portraits of the presidents and these were official portraits of the First Lady."
The 31 oil paintings by Williams features most of the presidents dating back to John Adams.
Williams, a highly regarded artist who sat with presidents to paint their portraits, was commissioned by Arizona State University in the 1970s to take original portraits from the Library of Congress and copy them, Markee said. Each of the 16-inch-by-20-inch portraits is incredibly true to life in detail.
Williams died in 2003 at age 93, so local artist Sandy Rusinko, best known for her western and wildlife artwork, painted Barack and Michelle Obama before moving to Colorado. Rusinko also painted murals on the Mohave Museum walls and on the Kingman water tank, which have become popular photo opportunities for tourists.
Museum donations
Mohave Museum acquired the set of presidential portraits through donations from local businesses in town, doctors and the Dunton family.
When Roy Dunton passed away, his son, Scott, stepped up and commissioned local artist Victoria Lynn Brown to paint oil portraits of Donald Trump and his wife, Melania.
"Everything in the museum is donated," Markee said. "We get no county, state or federal funding, so anything you see in the museum has been donated."
Victoria Goodthunder and her friend, Ramona Flores-Lopez, from Stockton, California were on their way to St. Johns to look at property when they stopped into Mohave Museum and took pictures of the Presidential Gallery.
"It's nice," Flores-Lopez said. "We wanted to do something educational, so we can say we saw something and learned something."
For example, how many presidents were before George Washington?
The common answer is zero, but Markee says there were 15 who served one-year terms. The first seven were under the Continental Congress and next eight were under the Articles of Confederation. It's one of the trivia questions Markee asks during tours.
Raising awareness
Bill Wales, president of the Mohave Museum board of directors for three years and a 14-year resident of Kingman, said one of his goals as president was to raise community awareness of the museum.
He was amazed at how many people in town don't know about it.
"I was getting a haircut one day and I said I had to go to a museum event that night, and she said, 'We have a museum?'" Wales related.
The Pioneer Women started collecting money for Mohave Museum in 1961 and were able to open in the former Chamber of Commerce building in 1968.
"The ranching and mining exhibits are just incredible, and the turquoise figurines are just phenomenal," Wales said. "We also have the only all-wood caboose that's totally available to walk through."
One of the prized pieces at the museum is actor Andy Devine's parade saddle that was donated by Kellogg's, sponsor of his TV show. Devine, a Kingman native who appeared in about 50 western movies, rode the saddle in the Rose Parade, and Wales rode it in the last two Andy Devine Days parades.
Another museum attraction is a pipe organ donated to St. John's Methodist Church in 1926 by rancher J. Wat Thompson. The cost of the organ, including shipping, was $3,650. He promised to buy the organ for the church when it paid off an $11,000 building loan, which it did in one year.
More like this story