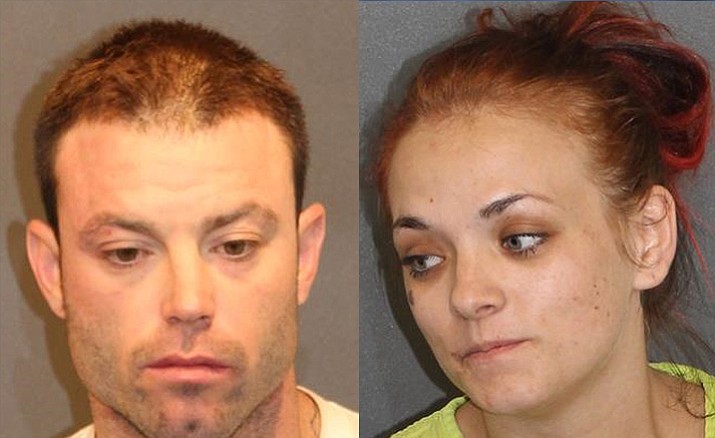 Originally Published: August 29, 2017 12:12 p.m.
KINGMAN – An alleged trespasser with a history of crime was arrested after struggling with Mohave County Sheriff's deputies Saturday.
Mohave County Sheriff's deputies arrested Steve Morgan Yarbrough, 34, and Uriah Dianne Spalding, 19, both of Kingman.
Yarbrough was arrested for trespassing, a felony, along with resisting arrest, an assault per domestic violence warrant, a failure to appear warrant – both warrants issued by Kingman Justice Court – all misdemeanors.
Spalding was arrested for trespassing, a felony.

According to sheriff's spokeswoman Trish Carter, deputies responded to a suspicious person at a home in the 3800 block of John L Avenue. A witness told deputies that her son was away and while she was checking on his house, she found people inside who weren't supposed to be there. The woman said she left because a man started acting violent toward her.
Deputies arrived and found a man and woman, identified as Yarbrough and Spalding, walking away from the home in an alleyway. Deputies ordered them the stop, but they allegedly continued walking. Deputies caught up and recognized them from previous contacts.

Deputies knew Yarbrough to have active warrants and informed him of such. He allegedly began resisting as deputies were taking him into custody, but was tased and taken into custody. A records check confirmed Yarbrough's warrants. Deputies contacted the homeowner who said Yarbrough and Spalding did not have permission to be in his house. Deputies talked to Spalding and took her into custody without incident.

Later that evening, inmate Yarbrough was additionally charged with aggravated assault – physical injury, aggravated assault – impede breathing, kidnapping and burglary, all felonies, stemming from an incident reported Aug. 1.
A 34-year-old woman had reported that Yarbrough allegedly broke into her house in the 2600 block of Thompson Avenue and knocked her unconscious. The report further said that when she woke, she was tied up and Yarbrough was gone. The woman managed to untie herself and call for help. Deputies noticed red marks on her neck, wrists and ankles. Medics responded and transported the woman to Kingman Regional Medical Center. Deputies had attempted to locate Yarbrough without success.
Yarbrough and Spalding were transported and booked into the Mohave County jail.
- Information provided by Mohave County Sheriff's Department