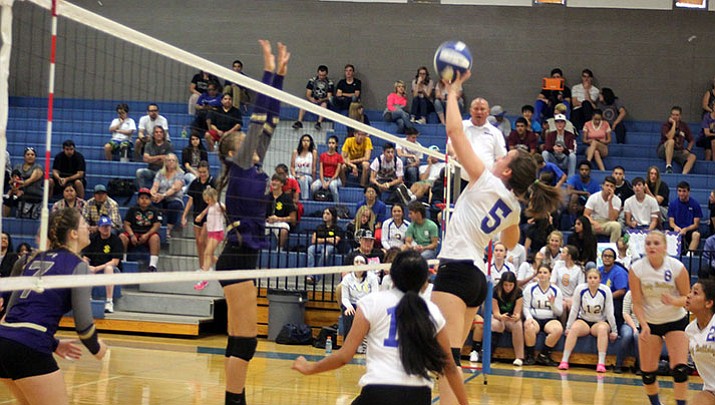 Photo by Beau Bearden.
Originally Published: August 31, 2017 6:03 a.m.
KINGMAN – The Kingman High School volleyball team dealt with a similar issue in each set of its season-opening match Wednesday against Lake Havasu.
The Lady Bulldogs would battle and keep it close early on, but slowly watch the score get out of reach in a 3-0 loss, (25-17, 25-12, 25-11), to the Lady Knights.
"We start really energetic, but somewhere along the way a mistake gets made and they all kind of shut down for a second," said Kingman head coach Molly Creagh said. "We just have to work on pushing through that. They're learning and they came back in every set. So we need to work on keeping the consistency of that mental toughness rather than shutting down in the middle of a set."
Creagh wasn't the only one to notice the Lady Bulldogs lose their spark.
"We were really loud at the very beginning and then we just got quieter and quieter," Kingman's Courtney Mossor said. "Our communication level just got a little bit lower towards the end of the sets."
The Lady Bulldogs still had some bright spots on offense. Mossor led the team with 18 kills, followed by Morgan Stephens with 14 and Keegan Gesser with five kills. Kayli Toms, meanwhile, tallied a team-high 19 digs.
"We actually did really well for our first game," Mossor said. "We just need to work a little bit on more communication."
In the first set, the Lady Bulldogs quickly turned a 5-1 deficit into a 5-5 tie. Lake Havasu didn't let Kingman take a lead though and never looked back after taking a 12-6 advantage.
While it was a similar story in the second set, the Lady Bulldogs did battle to a 7-7 tie before falling into a 20-8 hole that they couldn't climb out of in another loss.
Kingman once again battled to a 5-5 tie in the third set, but quickly saw themselves facing a 19-5 deficit. The Lady Bulldogs finally tallied a point, but it was too little, too late.
"This is a good game for them because Lake Havasu always makes us work hard," Creagh said. "I feel like we stepped up and fought. We fought for our points and that's all I can ask for – not giving up."
Kingman (0-1) is back in action today at 6 p.m. when it hosts Parker.
"We can move on right away instead of dwelling on the mistakes," Creagh said. "I think we'll fix them. Now that we're aware of that slump, that's where they have to start pushing each other the most to keep that from happening."