Originally Published: December 4, 2017 6 a.m.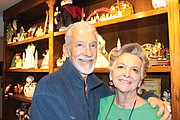 Look toward the Cerbat Mountains around Gordon Avenue and you'll see David and Marilyn Preston's powerful display of Christmas lights that were featured on national television last year.
They've decorated their house at 661 Shadow Mountain Drive for about 30 years now, increasing the light count from 250,000 to 300,000 this year with the addition of two fans, two starbursts and six pinwheels, all handmade by David.
He premiered the lights on Thanksgiving night, which has become an annual tradition, and had more people drive by the house that night than any night since. It'll get busier as the big day approaches.
"A lot of people in Kingman have guests for Thanksgiving, but not for Christmas, so it's nice to bring them by," Preston said Friday. "It's really been pretty busy. Each year we get a little more people coming by because word of mouth spreads."
Preston also programmed a four-song light show synchronizing the music with the lights. Viewers can tune their car radio to 90.1 FM.
The display is lighted from 5:30-9:30 p.m. each night through New Year's Eve, and is free and open to the public. It's the Prestons' way of saying, "Merry Christmas."
People are welcome to walk (no running, please) the horseshoe drive and be mesmerized by the 24 animated tunnel arches. It's important to stay on the cement to avoid tripping on guy wires and extension cords.
It took Preston and his friend, Bruce Gray, 31 days to put up the lights and decorations, working eight to 10 hours a day. Gray knows electricity and fixes a lot of lights that would have been tossed out, Preston noted.
"It's a lot of work," he conceded.
Has he ever considered abandoning the project?
"Nope, not as long as my health holds out. What keeps me going is I get hundreds and hundreds of people thanking me for adding extra joy to their Christmas. I get people telling me in person, phone calls, emails, notes and cards," he said.
"At night, I get out and listen to what people have to say and what they're looking at."
Preston estimates he's spent in excess of $100,000 on fixtures, lights, wiring, computer and everything else that goes into putting up such an elaborate display. He traveled to Michigan one year to buy a Santa Claus hanging from a rope for $3,000 at Bronner's Christmas Wonderland.
To get to the Prestons' home, take Gordon Avenue west off Stockton Hill Road, turn right on Shadow Crest Road, left on Canyon Hills (at first stop sign), then right onto Shadow Mountain Drive.
Preston asks that drivers don't turn around in neighbors' driveways. The street dead-ends at Harvard, where you can turn around and see the display again on your way out.