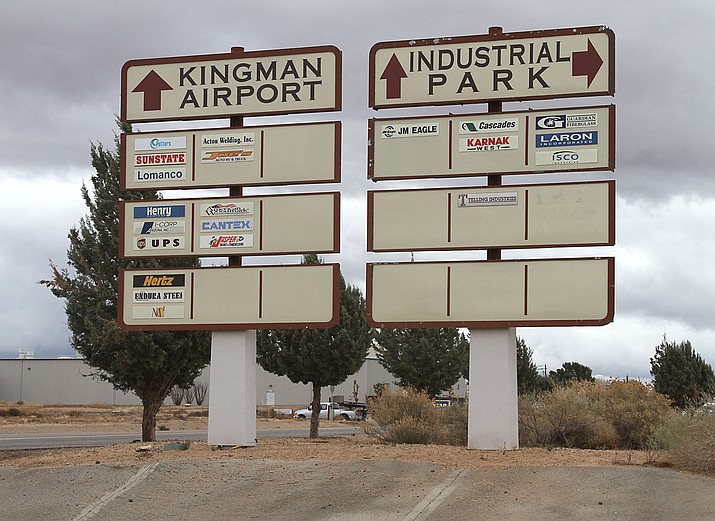 Originally Published: December 5, 2017 5:58 a.m.
KINGMAN – With some hesitancy, Mohave County Supervisor Hildy Angius agreed to bring 1.6 miles of paved roads at Kingman Airport and Industrial Park into the county's regular road maintenance system.
Angius wanted to know why it was the county's responsibility to maintain roads at the airport, which is owned by the City of Kingman and operated through a lease with Kingman Airport Authority.
"It's a big park," Angius noted. "Is this something you're going to come back to the county for in the future?"
Bob Riley, director of economic development at the airport, said he didn't foresee anything in the near term, but as the industrial park expands to the south and attracts new business, then yes, there would be an additional two to three miles of road maintenance requests.
Mohave County Supervisors voted 4-1 Monday (Buster Johnson opposed) to accept the airport roads into the county's regular maintenance system at a cost of about $72,000, according to Public Works Director Steve Latoski.
The roads include Commerce Way from Mohave Airport Drive to Bonanza Way, Columbus Way from Commerce Lane to Railroad Drive, Railroad Drive from Bonanza Way to 800 feet north, Bonanza Way from Shipping Lane to Railroad Drive, and Industrial Boulevard from Santa Fe Drive to 490 feet south.
The board heard public comment from Carmen Johnson of Golden Valley, who said she generally agrees with Supervisor Jean Bishop more than Supervisor Johnson (no relation), but not this time.
"We have more roads that need to be taken care of. We have roads so bad they shake the frame out from under your car," she said.
Supervisor Johnson read an email from a constituent in opposition to airport roads being maintained by the county, citing past improvements that illegally used HURF funds.
He compared Kingman's airport to Bullhead City's airport, which is also leased to a third party and uses its own money to improve the industrial park. Kingman has sold land for millions of dollars and failed to set aside any funds for road improvements, Johnson said, adding that he's been reading about problems at the airport in the newspaper.
Supervisor Bishop, who made the motion to accept the roads, likened it to incentives the county gave Bullhead City for Dot Foods to build its distribution facility there.
She asked if Kingman Airport Authority could assist financially with maintaining the roads.
Riley said KAA funds are earmarked for improvements to the airport such as runways and taxiways, and cannot be used for industrial park road maintenance under federal mandates.
The roads were constructed by KAA with the intent of bringing them into the county maintenance system, but "we just never got around to it," he said.
The roads are well developed, built to higher standards than most roads because of their heavy industrial traffic, he added.
The industrial park has more than 4 million square feet of space and generates about $500,000 a year in tax revenue for the county, Riley noted, and the roads are extremely important to tenants.
Angius said she doesn't remember Bullhead City ever coming to the county asking for things like road maintenance.
Riley responded that Bullhead City is different than Kingman. It's geared more toward passenger service, serving the resort town of Laughlin, and has more retail development than industrial.
More like this story