Originally Published: December 7, 2017 4:36 p.m.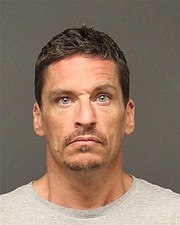 KINGMAN – Gaven Timothy Robel was indicted Thursday on first-degree murder charges for the beating death of his cellmate, the Mohave County Sheriff's Office reported.
The case involved the death of inmate Ryan Wayne Couch, who was flown to University Medical Center in Las Vegas on Nov. 20 with major head injuries resulting from an assault by Robel. Couch died Dec. 3.
Couch was in jail since Nov. 2 for a parole violation, and Robel was arrested Nov. 15 for outstanding warrants involving fraud, forgery and other charges related to an alleged opioid ring.
The Mohave County Grand Jury indicted Robel of Needles, California, of one count of first-degree homicide.