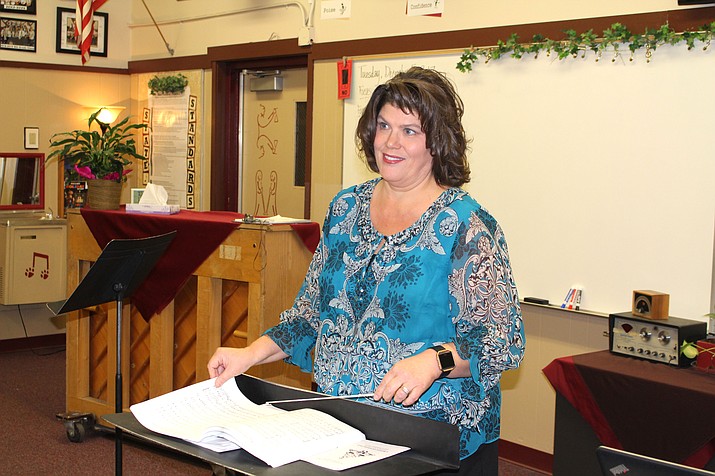 Photo by Hubble Ray Smith.
Originally Published: December 8, 2017 6 a.m.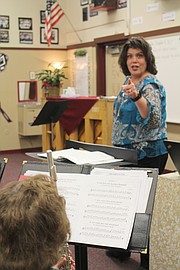 Julie Gragg was busy on the computer in her cramped music room office at Kingman Middle School Monday night, preparing for the Kingman Concert Band's rehearsal for Saturday's "Musical Christmas Card."
She spends much of her day in that music room, teaching junior high kids the finer points of musical performance and trying to keep them under control as the afternoon wears on.
In her spare time from teaching and directing the Kingman Middle School Band, Gragg is the force behind the Kingman Concert Band.
She's the one who recruits musicians, schedules performances, makes arrangements for venues (hopefully for free), selects the musical program (with a little help from her friends) and conducts the band.
"Without her inspiration and encouragement, I wouldn't be here," said French horn player Dianne Haydon, who joined the band two years ago after not playing since high school in Texas. "When you struggle, she's always the first to pat you on the back and focus on what's good. Never mind the 20 notes you missed."
The Daily Miner asked Gragg about her life and times, her commitment to education and her dedication to keeping music alive in Kingman.
Where were you raised and educated?
I grew up outside of Kalamazoo, Michigan, in a small town called Mattawan, where I acquired a strong K-12 education. I earned my Bachelor of Music from Western Michigan University (Kalamazoo). I later obtained a Master of Music Instrumental Education from VanderCook College (Chicago).
What brought you to Kingman?
I came to Kingman in August 1990 for my first full-time teaching position. I thought I'd stay for a few years and return to Michigan with some teaching experience to land a big high school band gig. However, I found my niche in Kingman Unified School District's music department, evolving from music teacher to band director to district music coordinator.
So, teaching was your calling?
My teaching experiences in Kingman have helped me expand my professional pursuits serving the Arizona Music Educators Association at the regional level and on the state board of directors, and having been appointed to the state (2006) and national (2014) music standards writing committees. My 28-year career with KUSD has been extremely rewarding helping bring music to life for thousands of children within our community.
Do you have family here?
My husband, Don Gragg, is the lead percussionist in the Kingman Concert Band. Having played in band through high school, the love for school music was a genuine connection for my husband and me. Don's strong passion for school music prompted the organization of the Kingman Middle School Band Boosters.
My father, James Porter, is one of Kingman Concert Band's biggest fans. He mans the entry of every band performance working to greet, distribute programs and solicit email addresses for the band's PR campaign. A true band fan, my dad has been to almost every one of my performances since I started in fifth-grade band years ago.
Tell us about your musical background.
Both of my parents played in junior high and high school bands. Entering fifth grade in Mattawan, every child was given the opportunity to join the school's band program. I selected the clarinet, the instrument my dad played in school. He and I would sit on the edge of my bed many evenings that first year and practice together. My dad finally stopped playing with me. He now jokes that I got better than he could play and so he quit practicing with me.
As a music major in undergraduate and graduate school, I took coursework and played all wind and percussion instruments. My parents enabled me to attend a variety of music camps during high school and perform with audition-based community student ensembles. I have worked summer music camps and marching band camps, and periodically adjudicate for area band festivals and teach private music lessons.
What are your musical influences?
Music has always been a part of me, the fiber of my being. I respect all forms of music from pop to jazz and even rap because of its musical content, but tend to listen more traditional types of music like pop, classical and jazz. Music is very much a language in its own right. A musician converts dots and symbols on the page into sounds. Each performer adds feeling and expression bringing the music to life and allowing the audience to see into the performer's soul.
If someone stepped into your home, how would they know you're a music teacher?
As you enter my home, one would immediately notice a baby grand piano. It was a gift from my grandfather and allows me to plunk out a melody or two occasionally. By no means do I play piano well despite my high school lessons to prepare me for music school.
Ironically, I seek ways to remove myself from music when at home. I find other sources of amusement to balance the countless hours of music in my life. Gardening, plant-based eating and sitting on a beach rank high in my pleasure time.
What's your favorite musical show?
The music teacher in me is very attached to "The Music Man." From "Seventy-Six Trombones" to "Gary Indiana," the music hits close to home, literally and figuratively. Though in my teaching I strive to impress upon my students reading the language of music, every once in a while I resort to Harold Hill's "think method." We joke about it even in the community band.
How did you get involved with the community band?
The notion of a community band was sparked over 17 years ago by a small group of music educators and performers who met one evening to organize a group of musicians. Though a part of that initial steering committee, I was submerged in building the Kingman Junior High School band program at the time and did not perform with the Kingman Concert Band in its first years. I later began playing with the group under the direction of Art Swanson and Les Krause, and eventually became the band's associate conductor. In 2014 I assumed the role of conductor for the Kingman Concert Band.
What do you get out of it?
It's fun and a viable way for me to practice my craft. Helping guide and celebrate music with musicians from the other end of the spectrum is rewarding. The majority of Kingman Concert Band members played an instrument in middle school and high school and recall their experiences fondly. Their release from life's woes is music. They grow musically and also build new friendships with other musically-minded folks. In rehearsals, at times they retreat to their high school antics all in good fun. Members take time out of their week to enjoy the power of music, good people, good fun.
Kingman Concert Band
Who: Kingman Concert Band
What: "Musical Christmas Card"
When: 7 p.m. Saturday
Where: Kingman Presbyterian Church, 2425 Detroit Ave.
Admission: Free, donation suggested
Notes: Kingman Concert Band conductor Julie Gragg put said the program convers every type of Christmas card style, from traditional to sacred to silly,
"An American Christmas" (new chart) will take several Christmas melodies and interlace some jazz, patriotic and music of John Philip Sousa. A great addition to our library.
"The 3-Minute Nutcracker" (new chart) offers the listener a condensed, whirlwind version of the famous ballet.
"A Christmas Festival" is a time-honored tradition by Leroy Anderson.
"Have Yourself a Merry Little Christmas" will feature trombone soloist Art Swanson.
"O Come All Ye Faithful" (new chart) will kick off the performance with a brass fanfare. The selection was sponsored by Grif and Holly Vautier. Grif is the retired pastor of Kingman Presbyterian Church. Holly is a flutist with the band who studied at a music conservatory in Boston.