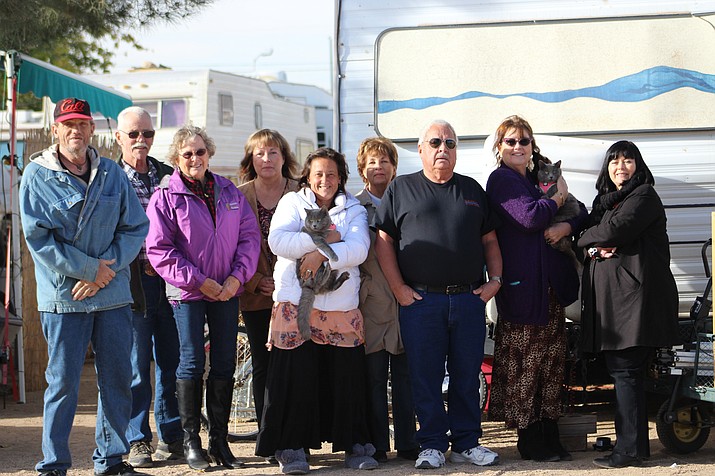 Photo by Claire Whitley.
Originally Published: December 12, 2017 6 a.m.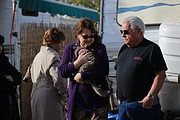 For Diane Pherigo, local Realtor, that July day started just like any other. She headed in to Walgreens to pick up a prescription when she saw a homeless couple with two gray kittens. Pherigo stopped to chat with the man, Bill, and gave him a few dollars before heading on her way.
It was the next day when she had to return to Walgreens that helped change the course of the next five months.
Bill was distraught. The hot pavement had burned the paws of kittens Boris and Sasha. Pherigo said she noticed that the carrier was too small for two kittens and offered to go home and bring Bill a bigger one. Then, realizing that she had an empty shopping cart from a closed business, she decided to fill it up with anything she could think of that Bill and Shellie, the woman with him, might need.
As it turns out, the two had been staying in the brush by the tracks. Pherigo said she took them to lunch and heard their story.
Shellie, 47, was born in Boston in 1970. She said her stepfather was an army man and she moved around every two or three years. She was raised off and on by her grandparents who died in 2004, five months apart from each other.
Shellie has lived in Las Vegas for 21 years, and she has been homeless for the past three.
Shellie was born with spina bifida and at the age of 6, was given an urostomy and a colostomy, plus she has hip, knee and feet problems. Bill has a terrible hernia among other health problems and most of the time he walks stooped way over.
Shellie has been getting a small Social Security payment most of her life. When she resided in Nevada, she could get her check from her payee, even when homeless. When Pherigo met them on the street and started to help them, Shellie told her about the check. However, she could not get it because she did not have an address. Pherigo then set out to find them a place to live.
"I found a place for them and reached out to Larry Burlew for help in moving them, he jumped in and not only did that, but brought food and house wares," Pherigo wrote in a Facebook update in late November. "Other members of our community generously pitched in and as a team we got them off to a great start. Glory to God for these kind and generous folks."
Once Shellie had an address, she received two checks, impossible to cash in Kingman. The first, Pherigo said she deposited and gave Shellie the cash. Pherigo was out of town when the second came, so Shellie and Bill took the bus to Las Vegas and cashed it at a bank that knew them and accepted her fingerprint.
Then, the checks stopped coming. Pherigo said the payee in Vegas decided to no longer be Shellie's payee.
It has been a vicious cycle ever since, Pherigo said. They are still working on getting Shellie an Arizona ID, which can't be done without two forms of ID, but to get a birth certificate or a social security card, an applicant has to have two forms of ID. Shellie currently only has a photo copy of an expired 2014 Nevada ID.
"In trying to help them I have been overwhelmed with a feeling of hopelessness to the point of tears, if it makes me feel that way, how must they feel?" Pherigo wrote.
From July until now, many people in the community have come to help Shellie and Bill. Pherigo said there has been an "army of angels" who have gathered support, helped move, provided cat food, clothes, shoes and have donated time as well as the travel trailer they are currently living in to the cause.
"God put them in our path," Pherigo said. "Maybe this will inspire others to give to their neighbor."
Pherigo and the "Christmas Angels" set up a YouCaring crowdfund and raised more than enough money, with two anonymous donors matching them dollar for dollar, to pay the owner of the trailer back as well as make sure they can get through until January, when Shellie, who has found a payee, can get her Social Security check.
"I couldn't leave them there (at Walgreens)," Pherigo said. "We usually don't get to know homeless people, but they have really turned that around for me. Every homeless person has a story."
Pherigo said they both laugh all the time, even more than her, and she hasn't been through the struggles that they have.
"They find joy where they can get it," Pherigo said.
Bill, 65, and Shellie met two years ago when Bill approached her on the street and asked if she was OK. The rest, as they say, is history. Bill arrived in her life at a time when Shellie said she was just waiting to die. She was in a wheelchair, had bedsores, and it was Bill that helped her to her feet, literally, and got her walking again.
"The first thing we did was get rid of it (the wheelchair)," Bill said. "She didn't need it. She can walk."
"I bring out the child in him," Shellie said, grinning over her shoulder as Bill played with Boris and Sasha. "I never thought I'd be with a blue-eyed blonde, but, he's a keeper."
The two had smiles on their faces most of Monday when Pherigo, Burlew, Lori Chambers and others who have helped came to take a group photo.
Shellie said she never thought she would have moved to Kingman, but now she fondly calls their travel trailer home.
"You'll notice I don't call it a trailer," Shellie said. "It's the house. It's home."