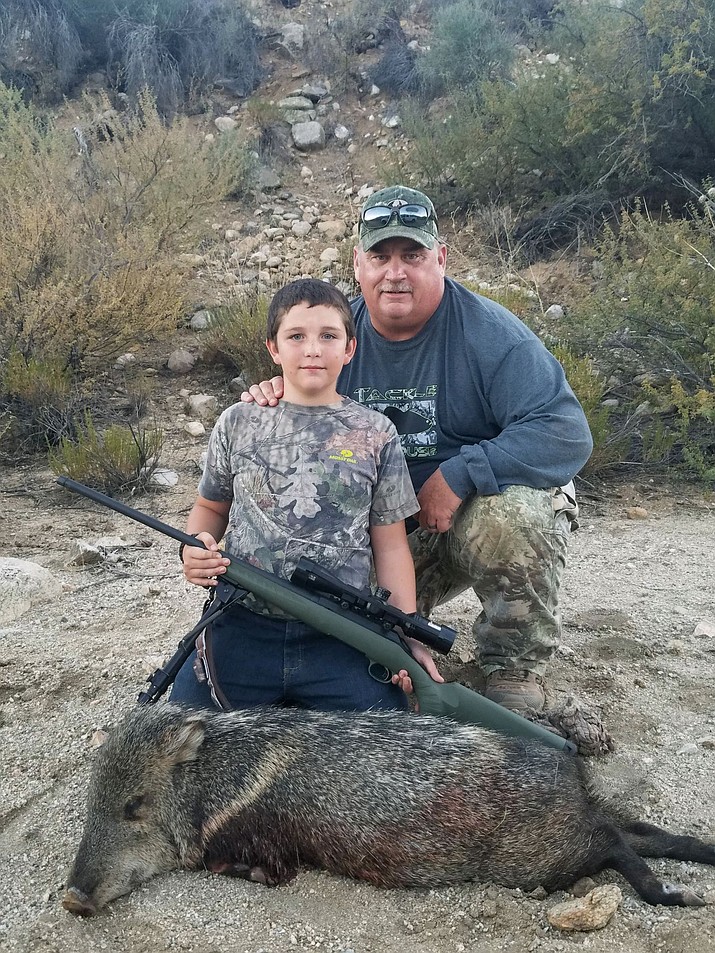 Originally Published: December 12, 2017 5:56 a.m.
This has been a great year for family and friends sharing their memories making outdoors stories.
And I'm happy to say, the stories just keep coming in.
This week I'm going to share with you two stories of grandfathers who shared their time in the field with their granddaughter or grandson.
Both involve local men who have been involved in the great outdoors for years.
They know and value the time spent with their grandkids and know how much their grandkids appreciate what they do for them.
Jim Guin is an avid angler, and he enjoys hunting.
He has been mentoring his 12-year-old grandson, Sean Pino, since he was 2.
In the years since Sean graduated from hunter education, he has been fortunate to draw a lot of tags.
This seventh-grader who attends Kingman Middle School drew his fourth javelina tag this year. And this is the fourth javelina that the young hunter has taken. He has taken two pigs with a muzzleloader and two with a rifle.
But it doesn't stop there. He has also taken two mule deer, both with a muzzleloader. Every big game animal that the young hunter has taken – be it deer or javelin – has been in this unit.
This year, Sean drew one of the 30 juniors' muzzleloader tags that were offered by the department.
Guin was going to be assisted by his friend, Kingman resident Dave Bonnee, when they went into the field on the second day of the hunt.
Things didn't start off good for the trio. They looked at places where they had found javelina in the past, but none were seen.
Then with just an hour or so left, a small group of pigs was found about 400 yards away.
The trio moved into the wash and got into position, as the pigs fed down toward them.
Guin got Sean set up on a bi-pod and a large sow walked into view. One shot with a 6.5 Creedmoor and the pig went less than 15 feet before dropping.
Guin noted that since it was getting dark and it was over 400 yards back to their truck, he field dressed the pig, and Sean helped process it the next day.
I should also add that Sean has been to two conservation projects with his grandfather. He attended an Arizona Elk Society elk camp in Unit 9 and just this past weekend came out for a desert bighorn sheep hunt for a disabled veteran in Unit 16A.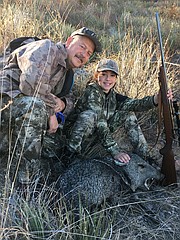 Larry Alanis, Makayla Alanis Guillory and Robert Alanis
Another grandfather from Kingman also had the opportunity to share on his grandchild's first big-game hunt.
Larry Alanis has the opportunity to take his 10-year-old granddaughter Makayla Alanis Guillory on her first hunt for big game in Arizona. Makayla is the daughter of Nicole Alanis.
Makayla had taken and passed a hunter education class in Kingman and she wanted to go hunting.
However, Lady Luck didn't smile on the young lady, and she didn't draw any tags.
But grandpa wasn't going to let the opportunity to go hunting with his granddaughter slip away.
Alanis found out that there were leftover juniors-only javelina tags available, but they were in a group of units in the southern part of the state.
There were 50 tags authorized, but a number had not been taken by other young hunters, so got Makayla a javelina tag over the counter.
Larry didn't know much about the four game-management units she could hunt in, but he had an uncle, Robert Alanis, who lives in Tucson, and he was familiar with the areas and was confident they could find javelina for the young hunter to pursue.
The plan was to hunt near Patagonia in an area that had lots of cactus and brush. One of the cacti that are prevalent in the area is called "shin daggers," and they are aptly named.
Alanis said that Makayla was really excited to be going on the hunt.
"She had a hard time sleeping that first night," Larry said.
The first evening in the field was uneventful. Though they did some serious glassing, no pigs were seen.
On Day 2, they started glassing a canyon, and Robert found a group of five pigs. Larry looked at them and then he got Makayla on the glass so that she could see them, too.
Then it was time to make a plan and a stalk on the unsuspecting porkers. The pigs were about a half-mile away and the cover they were in was thick.
The hunters moved down into a side canyon and worked their way toward where they had last seen the pigs.
But the pigs had moved by the time the trio arrived in the area, and they spooked the small herd.
While alarmed, the pigs didn't leave the area. As a matter of fact, they stayed close, very close, and the young hunter got a 10-yard shot.
When she fired the 204 Ruger, the big sow ran around a bush.
"Did I hit it?" Makayla asked her grandfather.
The answer was yes, and the pig had expired within a few feet of where she stood.
Alanis noted that Makayla helped field dress the pig and later on she helped process it into breakfast sausage.
While this is a great start for the young hunter, she can't wait to draw other tags in the years to come.
Sportsmen like Guin and Alanis enjoy mentoring and hunting with their grandkids.
Not only is a tradition of passing on the knowledge of hunting to the younger generations taking place, but they are making memories that will stay with all of them forever.