Originally Published: December 13, 2017 5:54 a.m.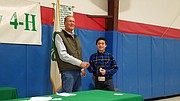 KINGMAN – More than 100 people gathered at the Mohave County Fairgrounds on Dec. 1 to honor youth and adults for a variety of achievements at the annual Mohave 4-H Recognition Program.
Kailah Goers and Malinda Boehm, serving as Masters of Ceremonies, handed out 61 award medals for outstanding project work in 30 project areas, including agriculture, arts and crafts, and community service.
Awards are based on the member's project work as defined in their 4-H record books. To complete the 4-H year, members must submit a record on each project, said Gerald Olson, 4-H youth development leader.
The records include the member's goals and objectives they set for themselves at the start of the year, as well as a complete financial record and achievements and awards on each of their projects.
The Partner in 4-H Award was presented to Kingman Animal Hospital in recognition of their significant continued support of the 4-H Youth Development program.
In recognition of his achievements at the 2017 Mohave County Fair, Zane Campbell of Outlaws 4-H Club received the Primer Exhibitor Award sponsored by the Arizona National Livestock Show and received a $100 check.
4-H Club of Merit Awards were presented to Cactus Critters 4-H Club and Buck-N-Doe 4-H Club.
More like this story