Originally Published: December 17, 2017 6 a.m.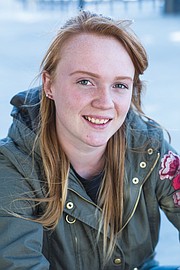 Shai Weaver is still waiting to wake up from her dream.
The Lee Williams junior said she can't believe she was selected for a weeklong internship on Broadway.
"I'm still in a state of shock," Weaver said, with a laugh.
The Open Jar Institute will be holding a summer workshop in New York City. Students attending will work with Broadway professionals for five days of high intensity workshops in acting, singing, dance and audition technique designed for a select group of students. They will be under the direction of Broadway Associate Director and Choreographer Jeff Whiting.
Weaver is one of 60 students to be selected to attend this internship. Weaver said she will be in New York July 8 – 14.
Weaver said when she saw the email that said she had been selected, she started crying. She called her father, but he didn't immediately pick up.
"When he called me after school, he asked 'What's wrong? Are you OK?' so he knew something was going on," Weaver said. "I said, 'Dad, I got the internship' and he just goes silent. I heard this intake of breath. He was ecstatic and so proud, like genuine pride. He told all of his co-workers 'My daughter is going to Broadway.'"
Sarah Kucharek, theater teacher at LWHS, said she was proud and emotional. She had never heard of the Open Jar Institute auditions before, and just put it up on the board as a whim.
With her spot secured, Weaver now has to turn to finding a way to fund her experience. Tuition alone costs $2,275, which Weaver said will include food, four Broadway shoes, and instruction, but not room and airfare, which she estimates to be about $3,000.
"I'm really grateful for this opportunity," Weaver said. "The student body and staff are getting behind me."
Kucharek said anyone who is interested in helping Weaver should listen for fundraisers, including a Jan. 19 performance with some of the proceeds going to Weaver's costs.
"I don't want financial aspects coming between her and this opportunity," Kucharek said.
Weaver is in the running for a regional scholarship, which would help alleviate the cost, however Weaver said she is trying to plan for it without the scholarship.
Weaver has also set up a gofundme account and she even walked around the school with a box that just said "Please Help." She has collected $1,350 of her $3,000 as of Saturday.
"These good things can happen," Kucharek said. "Support something amazing in this town, and use this as inspiration to grasp everything ahead of you now."
Weaver said theater has helped her find her true self.
"Playing all these different people, helped me find, well, me," Weaver said.
She said whatever she learns on Broadway she would be more than willing to share with her classmates, and she hopes "it'll give people courage to audition for more things."
Kucharek said there has been this realization at the school that one of their own has achieved something great.
"Hopefully it will embolden other people to not write off chances," Kucharek said. "Instead maybe they'll say, 'I'm going to go for it.'"
Weaver said she really wanted to put emphasis on how much Kucharek has helped her.
"She has become family to me," Weaver said. "If not for her, I wouldn't have had the courage to audition."
For now, Weaver said it still hasn't sunken in yet. This is a dream opportunity, and Weaver said she hopes she doesn't wake up soon.
"If you have a passion, don't fail to act on that passion," Weaver said. "Make your dreams a reality."