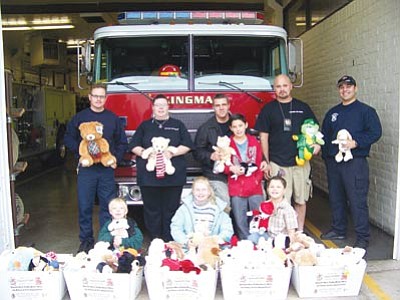 Originally Published: December 19, 2017 5:56 a.m.
KINGMAN – The Kingman Fire Department has successfully passed inspection to receive a public protection classification from the Insurance Services Office, which assesses fire departments across the country for their ability to protect property from loss by fire.
Since the early 1970s, ISO has applied its rating system to each community to rate them for their ability to protect insured loss, a big factor in determining insurance premiums for the community.
KFD went through an on-site examination by ISO in 2012 and was rated as Class 4 on a scale of 1 to 10, with 1 representing the best score.
In June, the department was re-evaluated and improved its rating to a Class 1, Assistant Fire Chief Keith Eaton said.
"The agency continues to work to maintain this level of fire protection through a comprehensive training program for all firefighters and a robust pre-fire planning program which supports updated fire inspections and response plans for each commercial and multi-family building in the city," Eaton said.
Each area of the fire department's operation is rated against a schedule of anticipated performance, and then against the community's risk of fire.
Areas evaluated in the ISO inspection include water supply, emergency communications, firefighter staffing, training and equipment. The overall score is then applied to the protection classification.
ISO evaluates fire protection in more than 3,500 communities, and only 250 communities, including two others in Arizona, have attained the Class 1 rating, Eaton noted.