Originally Published: December 22, 2017 3:22 p.m.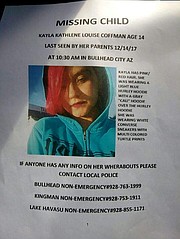 KINGMAN – The mother of teen runaway Kayla Coffman is asking the public for any leads in where she may be and to let her know it's okay to come back home.
Rene Coffman said her 14-year-old daughter, who was born and raised in Kingman, threw a "tantrum fit" about having to move to Bullhead City, and left home on Dec. 14.
"She wants to live in Kingman," Coffman said Thursday in a call to the Daily Miner. "Hopefully nothing bad has happened. A lot of family are looking for her, trying to keep up the leads. Maybe someone will tell her to go home. We're not mad at her."
The family has posted pictures of the girl on Facebook and put up printed posters around Bullhead City, Kingman and Lake Havasu City.
Coffman said she's heard about "sightings" of her daughter, that she might be spending Christmas with her cousin.
"I don't care where she spends Christmas, as long as she's safe," the mother said.
She said the girl doesn't make the best choices about her boyfriends, and that she had an older ex-boyfriend that she may be living with, or one of his relatives.
Kayla was last seen around 10:30 a.m. Dec. 14 when she left her home in the 300 block of River Glen Drive to take the dog outside.
She has pink-red hair and was wearing a light blue Hurley hooded sweatshirt, a gray Cali sweatshirt, blue jeans and white tennis shoes with colored turtle prints, according to a report from Bullhead City Police.
The girl has been entered into the National Crime Information Center as missing runaway juvenile.
Coffman said she's worried that Kayla is going to "jump Kingman" and move someplace else. One of the leads took police to a child predator in Peoria, but the investigation didn't pan out.
Anyone with information about the girl's whereabouts, past or present, should call Bullhead City Police at 928-763-1999 or Kingman Police at 928-753-1911.