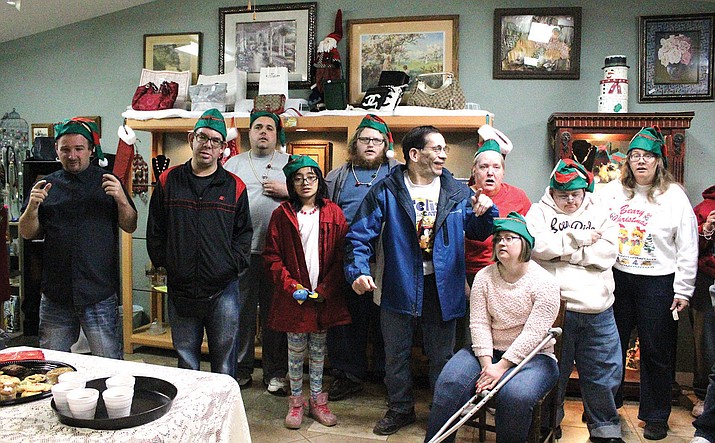 Photo by Beau Bearden.
Originally Published: December 24, 2017 6 a.m.
Corrine Cote, or C.C. as everyone calls her, knew that Santa would be making an appearance Thursday night at the Route 66 Special Olympics caroling.
But while many of the other attendees were looking forward to jolly old St. Nick, C.C. wanted to see Christmas cheer fill the air inside Annie's Art Attic at 2575 Northern Ave.
"I don't mind seeing Santa, but I'd rather see the expressions on everybody's face," C.C. said. "That's all I really care about. Besides hanging out with my friends."
That's exactly what C.C. did as she watched a packed room of people filled with the Christmas spirit enjoy cookies and hot cocoa while sharing friendly company. She even joined in with other Special Olympic athletes to sing Christmas carols.
But this isn't anything new.
C.C. started participating in Special Olympics during preschool in Maine. Now she calls Kingman home as family brought her here and she couldn't be happier.
"I enjoy meeting all kinds of new people besides my teammates," C.C. said. "We all challenge each other."
Daniel Bovrad also likes spending time with the other athletes, especially because a number of them are his cousins. Bovrad was eager to meet Santa and wrapped his arms around him once his wait in line was over.
The happiness shared by Bovrad and others is exactly why Annie Fuller holds these events at her store.
"We always host a different organization each month," Fuller said. "For me, this is probably the most exciting group that we're involved with because I have a special needs grandson."
Fuller didn't hesitate to describe how much she enjoyed the company of the Special Olympics athletes – describing them as "joyous and happy."
Thursday night wasn't the only time she's seen their friendly faces though.
"I do a lot of crafts with special needs during the week all through the year," Fuller said. "… So there's a lot of different of people that crossover in this community. There are a lot of giving people in this community. It's wonderful."
The giving carried over to the event as a number of prizes were raffled off, including a Carson Palmer autographed football, a two-night stay at Aquarius Casino Resort and many assorted gift cards.
But there were also ornaments awarded as door prizes that Fuller and the athletes worked on in preparation for the event.
"This brings them together as a group," Fuller said. "A lot of these individuals live in group homes, so some of them don't have families. This is their family. At Annie's Art Attic, we have 30 volunteers and eight board members. They have helped create this party for them. They have helped with Christmas stockings and all of that. That's what we do – we host, but we get engaged and we're the voice for the community."
At the end of the day, Fuller can take a lot away from events such as these and the involvement of Special Olympics.
"What's most touching is the joy and the excitement that the athletes have in participating, giving back and creating things," she said.