Originally Published: December 26, 2017 5:59 a.m.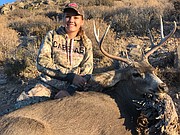 In the past I have had the pleasure of writing stories about local high school sweethearts who have gone on big game hunts together.
This year, one couple who are seniors at the Kingman Academy of Learning, Karli Moline and Kyle Dunton, shared their hunting experiences together even though they didn't have tags for the same hunt.
Karli drew one of the 20 juniors-only muzzleloader mule deer tags for a hunt in game management units 15A, 15B, 15C and 15D. Her hunt started Nov. 24.
Kyle drew one of the 25 tags offered for a juniors-only muzzleloader deer hunt for game management unit 16A (Hualapai Mountains). Dunton's hunt started Dec. 14.
Karli is an avid outdoors young woman who enjoys hunting. In 2016, she had a Unit 16A muzzleloader deer tag and bagged a nice 3x3 buck on her hunt.
Karli hunts with her father Shane Moline and her stepmother Tina. But this year she was also accompanied on her hunt by her boyfriend Kyle. Since both had muzzleloader deer tags, they decided to engage in some friendly competition to see who could bag the best buck.
The Moline family did a lot of scouting before Karli's hunt, and they were pleasantly surprised to see a lot of deer in the area they were going to hunt.
"We saw a total of nine bucks on our scouting trips," Shane said.
When the hunt opened they spent the first three days locating and passing on small bucks. "Karli told me she was not going to shoot a forkie," Shane said.
On the second weekend of the hunt they were driving back into the area they had hunted before when they spotted a good buck not far off the road.
"We got a gift," Shane said.
They pulled off the road, and Karli got out and set up to shoot at the buck that was 167 yards away.
The shot was on the mark, and Karli had herself a 3-½ year old buck that sported a rack that was 21-inches wide.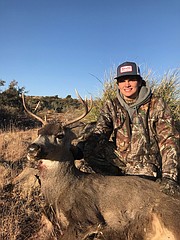 Now it was Kyle's turn, and once again the Moline family spent a lot of time scouting for deer in his unit.
The first day of the season Kyle hunted with his father Shane Dunton, and they had a good day in the field. They spotted six different bucks but didn't take any of them.
Shane, Tina and Karli did some scouting that first afternoon, but it would be the second day of the hunt before Kyle would get back in the field.
Kyle, who plays baseball for Kingman Academy, had a scrimmage Saturday morning.
Kyle and Karli decided that they would hunt together on Saturday afternoon after the baseball game.
The pair set out, and it was Karli who spotted a small herd of deer that had a buck with them. It was the first time she had ever located deer by glassing.
It was just before sundown when Kyle finally got a shot at the buck, 208 yards away.
At the shot, they thought that the buck was hit, but it didn't immediately go down.
With darkness looming they took up the trail and confirmed it was hit.
Karli called her dad and told him what happened.
"We decided not to push the buck and backed out of the area," Shane said. The young hunters marked the spot they needed to come back to and left.
The next morning at dawn they took up the trail and found the deceased buck about 700 yards from where it had been shot.
The only bad news for Kyle was that there was no doubt that Karli's buck was older than his.
Kyle said he was concerned he had not hit the buck where he was aiming. So just to make sure, he decided to test fire the muzzleloader. Sure enough, they determined the scope on the rifle was defective. Dunton was fortunate to have even hit the young buck.
This will be the last juniors-only hunt for both of the young hunters who turn 18 before next year's hunts.
But they spent a lot of time in the field with friends and family, which made for some lifelong memories.