Originally Published: December 26, 2017 5:58 a.m.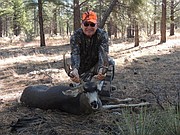 Steve Tague has been after a mule deer in Arizona for a long time. Tague has lived in Arizona since he and his wife Barbara moved here from California.
During his time in Kingman, Tague has drawn five deer tags. He has drawn two tags in Unit 9, and three in Unit 18A.
Steve is not new to deer hunting. While in California, Tague harvested 10 Blacktail bucks, his first at age 13.
Tague drew his second Unit 9 deer tag this year. This unit is not one of Arizona's better mule deer areas.
After drawing a tag, Steve and his wife started planning their strategy for this year's hunt.
"We decided to go up a month before the season started to look for a camping spot and look for deer," Tague said.
On opening day, Tague decided to just walk out north of his camp.
"I walked about ¾ of a mile from camp and then stopped and just watched and listened," Tague said.
He heard some noise behind him and saw some deer running away.
Then he heard a shot close by. "I couldn't believe it when I spotted a group of deer walking toward me," Tague said.
In the group were a doe and a fawn, a spike, fork horn, 3x3 and bringing up the rear was a 5x4.
The biggest buck was only 75 yards away when Tague took aim with his Remington model 721 rifle in 270 Winchester. Tague had inherited the rifle from his brother-in-law.
At the shot the buck didn't go far. "The other deer just stood there for a minute," Tague said.
It had been a long time coming, but Tague was pleased with his first Arizona mule deer.