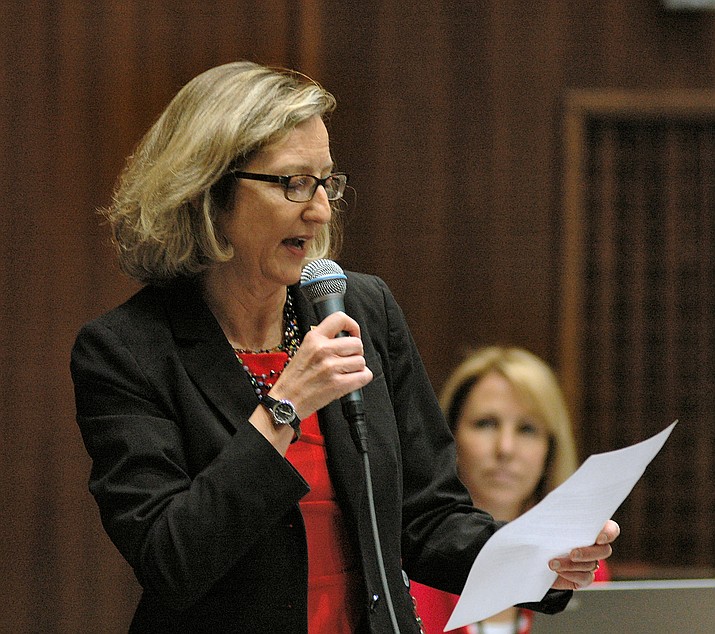 Photo by Howard Fischer, for the Miner.
Originally Published: December 27, 2017 5:57 a.m.
PHOENIX – Two state lawmakers hope to do what has proven politically impossible for decades: Convince colleagues to consider sentencing reform.
Reps. David Stringer, R-Prescott, and Kirsten Engel, D-Tucson, are heading a group to look at why Arizona locks up a higher proportion of people than all but four other states.
"You have to go to the Deep South to find higher rates,'' Stringer told Capitol Media Services. And Stringer, a former criminal defense attorney, questions whether having more than 42,000 people in state prisons is justified.
"People in Arizona are not that bad,'' he said.
Part of the issue, Stringer said, is strictly financial: The budget this year for the state Department of Corrections alone tops $1 billion, more than 10 percent of total spending.
But Stringer said his experience makes him question whether many of the longer sentence imposed, particularly for non-violent crimes, do more harm than good.
If history is any indication, Stringer and Engel will get a fight from prosecutors.
Bill Konopnicki, a Safford Republican who was a state representative, worked for years more than a decade ago, saying the state could not afford the burgeoning costs of its prison system. His efforts included reclassifying some crimes now considered felonies to be misdemeanors.
That incurred the wrath of fellow Republicans to the point where then-Sen. Ron Gould, R-Lake Havasu City, used his position as chair of the Senate Judiciary Committee to ensure that any such measures did not even get a hearing.
Former Rep. Cecil Ash, R-Mesa, had no better luck in 2010 with his own special legislative committee which also looked at sentencing reform. Prosecutors successfully blocked those from becoming law.
Yavapai County Attorney Sheila Polk, from Stringer's home county, said she is willing to listen.
"I am always interested in ideas on how to best protect the public from criminal offenders, ensuring safe and crime-free communities,'' she said.
Maricopa County Attorney Bill Montgomery said the position he will take "depends on whether this is a data driven effort without faulty assumption or another preconceived, rhetoric driven effort.''
"It could be a chance to highlight what Arizona has been doing right and where we can and need to do better,'' he said. Montgomery said he wants to focus on reducing recidivism, calling it "the most promising approach to evaluating options without jeopardizing public safety.''
But don't look for Montgomery to support changes in sentencing.
"Those currently incarcerated are those who should be there,'' he said. "There's no objective data that establishes otherwise.''
Stringer said it may be true that people who commit certain crimes should go to prison.
"But almost all of them come home,'' he said. "So when do they stop needing to be behind bars?''
He said lawmakers need to look at the sentences that judges are required to impose.
"Very young people are getting just horrendous sentences, 10-year sentences for fairly minor drug stuff, not heavy dealing,'' he said.
"Anything more than two or three years in jail and you come out a changed man,'' Stringer continued. "And it is completely self-defeating because we end up with a very high recidivism rate.''
So what are the options?
"I happen to be a big proponent of things like work release,'' Stringer said.
"I don't think people who break the law should get off scot free,'' he said. "I think they ought to make it up in some way to the community.''
More specifically, he wants to ensure the focus is on rehabilitation.
"We are shooting ourselves in the foot if we are just locking people up,'' Stringer said.
He said there's no question but that crime is a social harm.
"But vengeance also carries a cost,'' Stringer said, tying up resources "that should be going to other worthy causes.
Engel has her own perspective on what she sees as the negative consequences of the state's high incarceration rate for non-violent offenders.
"Incarceration makes it harder to get and hold a job, impoverishes families and hurts the economic prospects of entire communities,'' she said. "We can do better.''
The Sentencing Project lists Arizona's incarceration rate at 596 people for every 100,000 residents. That compares with a nationwide figure of 458.
It lists only Louisiana, Oklahoma, Alabama and Mississippi with higher rates.
Stringer is careful to say that the focus of the committee will be on nonviolent offenders. And at least part of the reason for that is political: He believes it's less likely to provoke a knee-jerk reaction against any proposals.
"That's always how they crush reform,'' Stringer said.
"They say, 'What are you going to do, put criminals on the street, murderers and rapists on the street?'' he continued. "No, we're making it very, very clear that we're only looking at nonviolent offenders.''