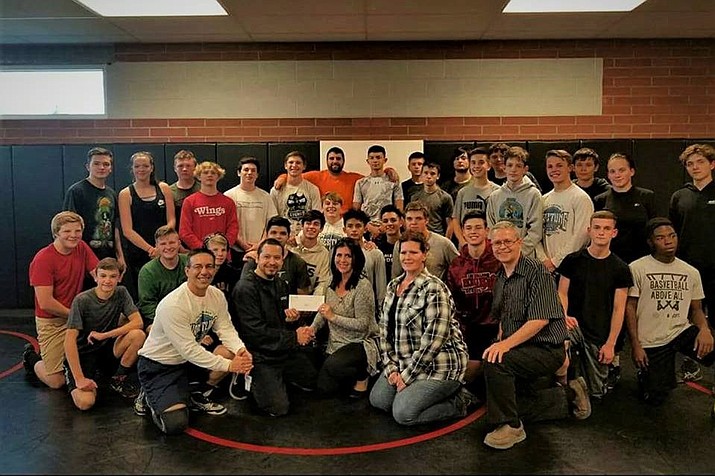 Originally Published: December 27, 2017 6 a.m.
The Lee Williams High School wrestling team is off to a great start this year and is averaging about 30 wrestlers at practice and includes three state qualifiers: Edmond Ashton, Dylan Shaffer and Jimmy Wayman.
The team plan continues to show great accomplishments like taking fifth out of 16 teams at the Holbrook Pat Kenny Wrestling Invitational and having seven wrestlers place in the individual tournaments as well.
In order to provide the tools the team needs to help them with their success, it costs money and as most know, the school budget is limited. Therefore, most sports need to conduct fundraisers and rely on tax credit donations in order to purchase much needed basic items. In this case, the LWHS wrestling team conducts fundraisers every season to raise money to purchase singlets and warmups, pay for transportation to and from tournaments, tournament fees, wrestling training camps, and so much more.
For the past couple of seasons, the LWHS wrestling team has been receiving an increasing amount of community support, and the team wants to thank them. Last season, approximately $1,500 in cash and gift card donations from the KRMC Community Benefit Program/KRMC Spine and Sports Injury Clinic, Angle Homes, Safeway, Subway, Chipotle, Chili's, Panda Express, Walmart, Baskin Robbins and Basha's were received. There were several venues that participated in a cash jar fundraiser such as Floyd and Company Real Pit BBQ. Last season, these donations assisted in purchasing a round of singlets for the team and sending it to a summer training camp in Las Vegas.
So far this season, the LWHS wrestling team has received nearly $3,000 from community contributors such as American Woodmark Foundation, Cerbat Dentistry, Chipotle and Subway. These donations were a huge asset to the team and due to the donations, the old worn out warmups were replaced with new ones for the entire team. The team can also attend a summer wrestling training camp in 2018, which is very beneficial for the wrestlers so they can continue to improve wrestling techniques and compete in wrestling competitions with other wrestlers from around the country at camp during the off season.
Coach Dan Ondrejka and coach Ray Sanchez work hard with the wrestlers on and off season. Due to the coach's commitment to the team, the team continues to grow and reach team and individual accomplishments Family and friends have also been a huge contributors to the team due to the submitting of tax credit donations and participating in fundraisers. With that being said, the Lee Williams High School wrestling team wants to thank the community, family and friends for all of their support.

The LWHS wrestling team is in ongoing need of donations to help obtain items such as new wrestling mats, jump ropes, wrestling dummies and more. If you are interested in submitting donations to the Lee Williams High School wrestling team, please submit donations to:
Lee Williams High School Wrestling Team (Tax ID #86-0815844)
400 Grandview Ave.
Kingman, AZ 86401;
Or contact Sylvia Shaffer, LWHS wrestling team fundraising coordinator at 928-303-6647.
The Lee Williams High School wrestling team