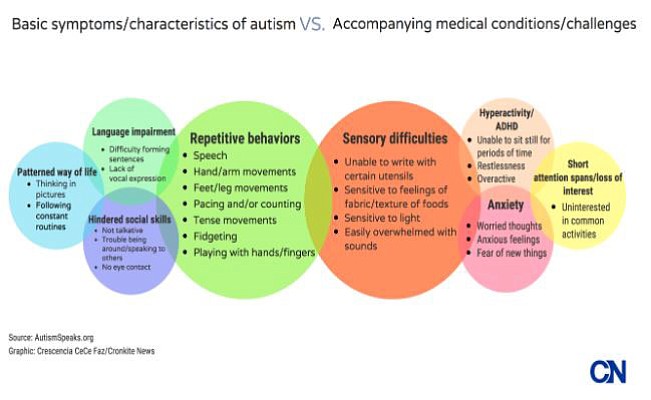 Originally Published: December 31, 2017 5:50 a.m.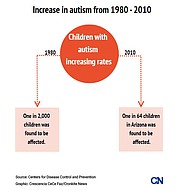 PHOENIX – Any parent or guardian of a child with autism understands sending their student off to school to seek an education may result in an experience unlike the rest of their peers.
For some students, it may just be frustrating. For others, it may be a more difficult adjustment.
Between being diagnosed with the correct spectrum level, learning how to cope with the symptoms and cooperating with fellow teachers and classmates, a young student can find school challenging.
"Individuals with disabilities are historically underserved, marginalized and excluded all too often, including individuals with autism spectrum disorder," Alex Boglio, clinical manager of the Southwest Autism Research and Resource Center's (SARRC) Education, Training and Consultation program said in an email interview.
According to the Autism Society of Southern Arizona, the prevalence of autism is estimated at one in 68 births nationwide and one in 64 births in Arizona according to the 2010 statistics from Centers for Disease Control and Prevention.
Of these total births of children with autism, according to spectrumnews.org, 90 percent also have sensory difficulties, meaning they have trouble writing, communicating and socializing, in addition to being more sensitive to sights, sounds, smells and touch.
"Through measures like No Child Left Behind, [the] Every Student Succeeds Act and Arizona's School Choice initiative, parents of children with autism have a greater amount of choice in their child's educational journey than ever before," Boglio said.
"More and more children with autism are becoming adults with autism, and this growing adult population has the community examining outcomes as children within school systems' transition to adulthood," Boglio said. "So as a community, we must ask ourselves, 'what is the purpose of K-12′? To prepare individuals for adulthood."
Boglio said the National Technical Assistance Center on Transition (NTACT) is working on identifying what those practices and predictors are.
Patty Sturges, an instructional assistant at Reyes Maria Ruiz Leadership Academy, a branch of Espiritu Schools, in Phoenix, works with students who have autism as a part of her daily routine, and she knows firsthand that every child with autism is unique.
"I have never found that any of them are alike," Sturges said. "They have similar personality traits, or maybe similar issues or similar ways of doing things, but never could I say that each one is the same."
Sturges has used techniques of all sorts to work with her students who have autism in the classroom, and has found that those techniques have changed as technology advances.
"I have found one of the techniques that works for some is the 'if-then' chart," she said. "The way that works is we can work with them to let them know that if they can do something, say, three math problems, then they can get time on the computer or something similar to that."
Sturges' classroom is small but equipped with laptops, headphones, classroom essentials and stuffed animals just in case a student needs that little extra comfort.
From experience, Sturges is familiar with students who are just becoming familiar with autism themselves.
"It's hard to say that anything fits all students with autism," Sturges said. That's because not all characteristics of autism are the same for every individual. Sensory problems and autism are closely related, but the severity of these symptoms range from person to person, according to autismspeaks.org.
Autism-Help.org, which introduces others to autism, says, "Sensory experiences that parents don't even notice may be extremely frightening or unpleasant for a child – the feel of a certain fabric, sounds of certain frequency, particular colors or seemingly bland foods."
At some points, the overwhelming sensations can interfere with the child so much, it takes a toll on their life. This is especially true in open environments, such as schools and classrooms, and can impact academics.
Ana Flores, is the mother of 10-year-old James Navarrete-Flores.
James is currently in fifth grade at Reyes Maria Ruiz Leadership Academy, and has several challenges including autism and sensory difficulties.
"It all started when he was just a little boy and I noticed that he hated the textures of some foods that I would serve him," Flores said in Spanish. "He wouldn't eat, then he started having trouble dressing himself and touching towels and things because he didn't like the way they felt. At first I just thought that he was being stubborn or picky, but it became so extreme that he started to become closed off from others one day, but then just really anxious and jumpy the next. Then he would cry and cry. There was no controlling him," Flores said.
According to the National Autistic Society (NAS), "Too much information can cause stress, anxiety and possibly physical pain. This can result in withdrawal, challenging behavior or meltdown."
These were the symptoms James was experiencing early on.
After countless visits to pediatricians thinking James only had nervousness or anxiety, he was diagnosed with autism along with other illnesses between the ages of 7 and 9.
Because of his sensory difficulties, James prefers to complete assignments via laptop rather than writing by hand.