Originally Published: December 31, 2017 6 a.m.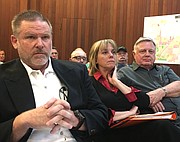 KINGMAN – A gunman opened fire on the Route 91 Harvest Festival in Las Vegas on the night of Oct. 1, killing 59 people and wounding more than 500 in the deadliest mass shooting in U.S. history.
It had a ripple effect on Kingman, which is about 100 miles from Las Vegas and had a few country music fans in attendance.
Michael Crocker, a Mohave County prosecutor from Kingman, was standing near the stage at the concert with his friend, Emilie Husselt, when he heard what he thought were fireworks.
A few seconds later, Crocker was scrambling to get his friend over a barricade and underneath the stage as gunman Stephen Paddock unloaded a barrage of bullets on the estimated crowd of 22,000 from his 32nd-floor hotel room at Mandalay Bay. Paddock later took his own life.
"The shooter hit several people that were 20 feet behind us," Crocker said. "At that point, we realized that people were saying it was a shooter."
A former U.S. Marine was giving directions to people under the stage to make it to the backstage area.
"The same people who were telling us how to escape could have selfishly gone by themselves. They took us with them," Crocker told the Daily Miner.
Crocker and Husselt literally gave the shirts off their back to help a victim who was shot in the leg, and made their way to Hooters Casino, where they spent the night on the floor.
Brett Schwanbeck, 61, of Bullhead City, was among those killed at the music festival. He was there with his fiancée, Anna Orozco, who was not injured.
Body discovered
Sydney Cranston Jr., a real estate agent and investor, was missing for 19 months before authorities discovered his remains on Jan. 7 on a 40-acre ranch east of Kingman.
Alfredo Blanco, who worked for Cranston as a handyman and rental property manager, was arrested four days later at a rehabilitation facility in Phoenix and is being held without bail on first-degree murder charge.
Blanco, 61, is accused of killing Cranston on or about June 19, 2015, and burying his body on the ranch. His next hearing is scheduled for 1:30 p.m. Tuesday before Superior Court Judge Rick Lambert.
Bill Sanders, an acquaintance of Blanco, was also indicted as an accomplice to the murder. He pleaded not guilty to charges of concealment of a dead body and tampering with evidence.
Airport lawsuit
It was only 15 years ago that Kingman Airport was named Arizona Airport of the Year by ADOT's Aeronautics Division, but you wouldn't know it by looking at the facility today.
There hasn't been a new business lease at the airport in more than eight years, and the Kingman Airport Users Association had been calling for the scalp of Executive Director Dave French for a while.
In September, French announced his resignation, effective today.
City Council candidates campaigned on a promise to gain back control of Kingman Airport Authority's 25-year lease agreement.
The city hired Daryl Williams, an attorney specializing in aviation, to file a condemnation notice against KAA in an effort to take the property by eminent domain.
Andrew Federhar, representing KAA, filed a motion to move the case to U.S. District Court in Phoenix, as the matter involves federal regulation by the FAA.
Embezzler sentenced
After a year of being free on her own recognizance, former city finance employee Diane Maxine Richards was sentenced to nine years in prison for embezzling $1.1 million from the City of Kingman.
Richards was also ordered to pay restitution, starting with the $157,000 check she signed over from the Arizona State Retirement System, and will be placed on supervised probation for seven years upon her release from prison.
Investigators with the Attorney General's Office found that Richards misused a city credit card to pay for personal expenses from July 2007 to January 2015. Those expenses included payments for her personal cell phone, utility bills and car insurance. She also used the credit card to pay off cash advances at various casinos.
Sales tax
They call it a Transaction Privilege Tax, but the bottom line is you're paying more for the privilege of making a retail transaction in Kingman.
City Council in August voted 5-2 to increase the tax from 2.5 percent to 3.5 percent, with 0.5 percent going toward funding "pavement preservation," though it was later designated as a funding mechanism for the proposed Kingman Crossing and Rattlesnake Wash interchanges on Interstate 40.
The City of Kingman's portion of the current sales tax is 2.5 percent, but 0.5 percent was scheduled to "sunset" at the end of the year. Council unanimously "retired" the sunset clause, which makes the 2.5 percent tax rate permanent.
City manager terminated
City Council voted in September against renewing the contract of City Manager John Dougherty, who was hired in 2013 for strong financial background.
Dougherty underwent a performance evaluation in early September and said he found the results "shocking," so he wasn't as surprised by Council's decision. His contract expired at the end of November.
The Council has now entered the search for a new city manager, paying $25,000 to a recruiting firm.
In the meantime, the City hired interim City Manager James Bacon at a salary of about $90,000 for six months, the timeframe expected to screen and interview candidates and select a finalist for the job.
Here comes the judge
After serving as Mohave County District 5 Supervisor, representing Mohave Valley and Yucca area, Steve Moss was appointed to the Mohave County Superior Court by Gov. Doug Ducey, recommended by his Judiciary Committee.
Moss replaced Judge Steven Conn, who was forced to retire when he turned 70 in July.
An attorney who practices civil litigation and family law, Moss was elected county supervisor in 2013 and brought a sense of fairness and extensive legal knowledge to the board, along with a sense of humor.
He once made a tongue-in-cheek suggestion to seek legislation for open hunting on the wild burro population of Mohave County as a way to put the heat on the BLM, which is mandated to control the herds.
At the judicial panel interview, Moss was heavily supported by government officials and residents who praised his involvement with the Colorado River High School District, pro bono legal work and his work with the American Youth Soccer Association.
Facebook flap
Kingman resident J'aime Morgaine filed a civil lawsuit against U.S. Rep. Paul Gosar, R-Prescott, for blocking her from commenting on his Facebook page after she used profane language in previous post.
That one slippage shouldn't be enough for an elected official to block her from his page, Morgaine contended in a federal lawsuit filed Sept. 8 in Phoenix. She said her First Amendment rights had been violated.
"It's a public constituent feedback forum, and he's picking and choosing who can post," Morgaine said. "That's why I filed a lawsuit."
The American Civil Liberties Union was reviewing the lawsuit for possible involvement when Gosar relented and let Morgaine back on the Facebook page.
"Welcome back to my Facebook, @JMorgaine. The floor's all yours," Gosar said in a Facebook message to her.
The band played on
Kingman High School Bulldogs Marching Band was ranked eighth in the Division IV state championships held Nov. 18 at Arizona State University with a score of 63.3 points.
Michael Schreiber, KHS band director, said the kids were excited to represent Kingman and northern Arizona at the state championships.
"For such a young group to have come so far says a lot about their character," Schreiber said. "They come out and work hard for hours every week and I'm happy that their work was rewarded with recognition like this."
Wrestling champ
Nic Verville, a 132-pound wrestler for Lee Williams High School, won the AIA Division III state championship in February with an 11-2 victory over Yuma's Joe Herrera, giving the Volunteers their first individual wrestling title.
It was the first time since Kingman High School's Victor Martel won the heavyweight title in 1983 that a local wrestler has won a state championship.
"After the first takedown, I said to myself, 'This is it, pick it up.' I trusted the process and believed in myself. I came out with what I wanted," Verville said after his championship match.