Originally Published: February 2, 2017 6:01 a.m.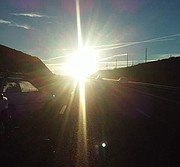 KINGMAN – A low-horizon sun glare is to blame for a car pileup on U.S. Highway 93 Wednesday morning that shut down southbound lanes and backed up traffic for miles.
According to Arizona Department of Public Safety spokesman Quentin Mehr, the incident started at 7:55 a.m. near milepost 63.
DPS received numerous calls of collisions that started when a motorcyclist and pick-up truck reportedly collided, causing a chain reaction of crashes involving about 20 vehicles. Mehr said the sunlight may have blinded some drivers.
Five people were transported to Kingman Regional Medical Center for minor to serious injuries. Mehr was told none were life threatening.
Jeri Wolsey, assistant superintendent at Kingman Unified School District, said two buses were late getting to the schools due to traffic, but none were involved in the crash.
There's no official information on the extent of the injuries. U.S. 93 has since reopened and the cause of the collisions is still being investigated.
Related Stories
More like this story