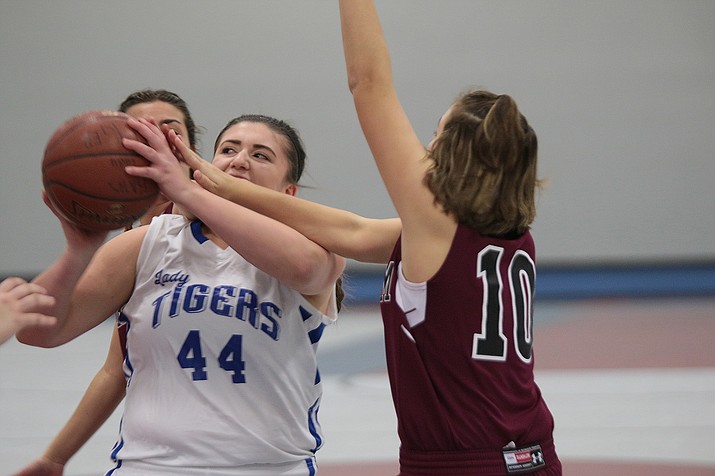 Photo by JT Keith.
Originally Published: February 2, 2017 6 a.m.
KINGMAN – Kingman Academy's Lady Tigers appeared to be dead a couple of times this season. Things are not always what they appear. With their season on the line and needing a win, the Lady Tigers used a tenacious man to man defense to overcome an 8-3 first quarter deficit to hold Mohave Accelerated scoreless in the second quarter to win 29-18 Tuesday night.
Not only did the Academy hold the Patriots scoreless in the second quarter, they only allowed them three points in the third. The win means a showdown game with Parker on Friday.
All season long the odds have been against the Kingman Academy, forfeiting a game against Trivium Prep, because of paperwork issues. And in their last game against Tonopah Valley on Friday night they were blown out at home by 30 points.
Coach Garth Steed has kept his team in the hunt for a state playoff appearance by focusing on the next game.
"It all comes down to Friday," Steed said. "I expect it to be a battle."
The Lady Tigers were led in scoring by Kassidy Campbell and Chloe Elliott both scored five points and were helped out by Amberlee Steed, who contributed four points, Emily McCracken scored three, Canya Thompson, Vanessa Blanco, and Kiersten Ewards each scored two points.
"I told the girls that we control our own destiny," Steed said. "If we win out we are in. We have to take care of our business. We have to win Friday in order to have a play-in game."
The last time the teams played was at Betty Rowe Gymnasium on Jan.17 when the Lady Tigers defeated Parker 45-37.
The next time the Lady Tigers are on the court is when they travel to Parker for a 5:30 p.m. tip on Friday.