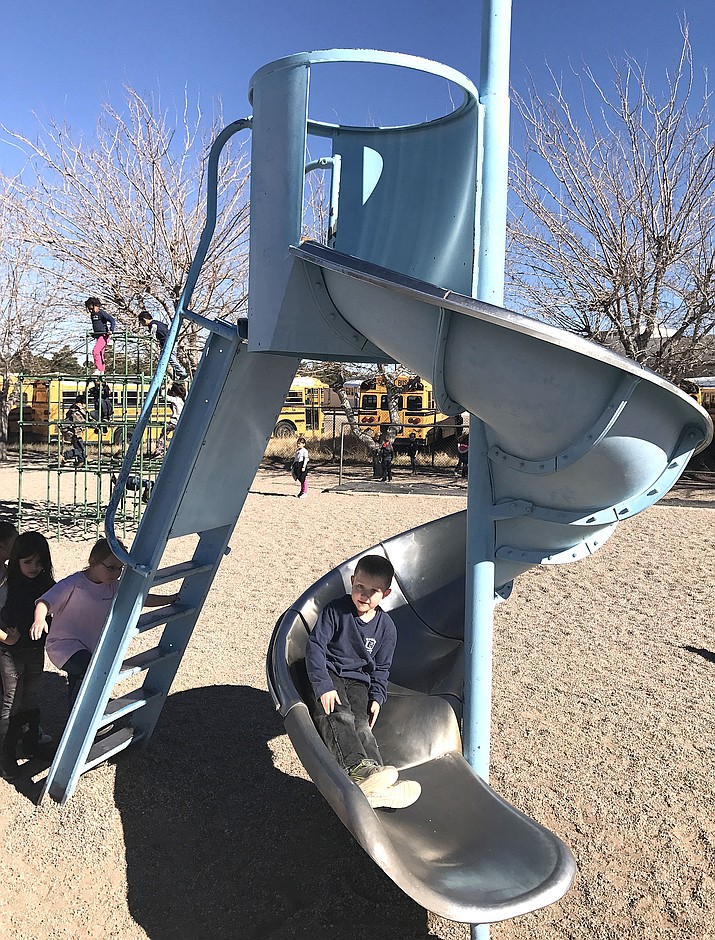 Photo by Aaron Ricca.

Originally Published: February 3, 2017 6 a.m.
KINGMAN – Arizona lawmakers are taking a recess on a school recess bill that would grant kids more playground time.
Susan Chan, Kingman Academy district administrator, is not happy with the state intruding into what she clearly sees as a local matter. Kingman Unified School District Principal Scott Taylor says the balance between recess and class time is "delicate."
According to Capitol Media Services, the approval of HB 2082 (also known as the "Recess Bill") by the House Education Committee came Monday after a plea from Arizona District 4 Rep. Jesus Rubalcava, D-Gila Bend.
He told colleagues that his experience as a teacher working with students with special needs, including hyperactive children, convinces him that all youngsters would benefit.
He brought the bill before the committee Jan. 27. Monday was the opportunity to present his case to a panel and it went through unanimously 9-0. The bill still has to go through more channels before it becomes law.

If signed into law, kids in grades K-5 would get 50 minutes of mandatory recess at all district and charter Arizona schools. The bill would also prohibit punishing kids by taking away their break time.
Chan said the academy's primary school (K-2) has 35 minutes of recess per grade level and the intermediate school (grades 3-5) have a combined total of 40 minutes of recess each day. The primary and intermediate school break times are broken in to smaller units.
Chan was no proponent of the state interfering in local instruction. She said in an email, "If the increase is voted upon, we would either have to give up instructional time, which I am not a fan of, or increase the amount of time we go to school."

She said the schools are already tasked to the max and that educators should decide the balance of schoolwork and playtime.
"We know when students need a break to exercise their bodies and rest their brains," said Chan. "So let us be the professionals and make those determinations."
Rubalcava said the 50 minutes are not consecutive.

"The way the bill is written, it gives them the freedom to implement the 50 minutes however they choose," he said.

He's going on his ninth year of teaching at the Buckeye Elementary School District and is a school board member at the Gila Bend Unified School District. He said he understands the need for local control.
"The schools at the local level can do things without someone telling them what to do," he said. "We're giving them the guidelines. How you implement is totally up to you."
Taylor, principal of Manzanita Elementary School, said K-5 students already get 55 minutes of daily recess and that they added more time this year to accommodate the four-day school schedule.
There's a 15-minute period between bus drops and the first warning bell, a 40 minute break (15 minutes for lunch and 25 for recess) break and an additional 15 minute break in the morning or afternoon, depending on the on the grade.

"There's a delicate balance between academics and letting kids play," Taylor said.
The bill doesn't specify if the 50 minutes are to be consecutive. Taylor said smaller, multiple breaks might add undue commotion to the balance.
"Most people want that big block where the kids could play," he said.