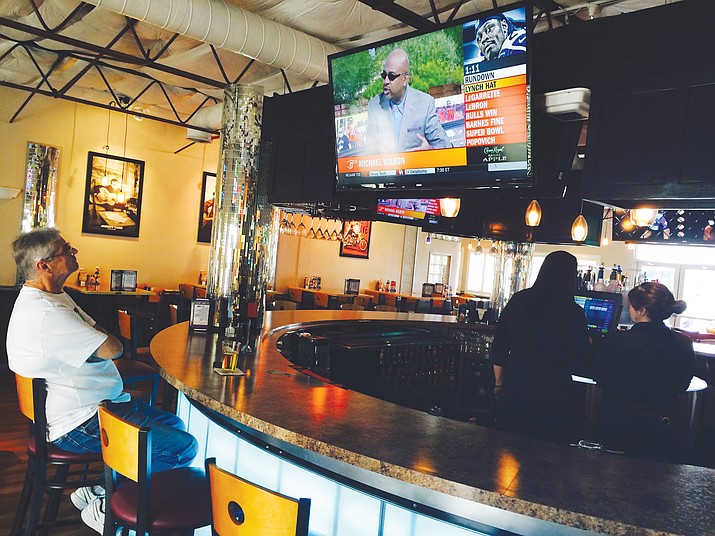 Photo by Hubble Ray Smith.
Originally Published: February 3, 2017 6:04 a.m.
Some folks will be pulling for the Atlanta Falcons to win their first Super Bowl. Others might like to see New England Patriots quarterback Tom Brady wear his fifth NFL championship ring.
And roughly one-third of the estimated 115 million viewers will tune in to the big game simply to watch the highly anticipated, over-the-top, $5 million commercials.
The halftime show often makes for good conversation at the office water cooler the next day (remember Janet Jackson). This year it's Lady Gaga.
Super Bowl LI (that's 51) is upon us, with kickoff scheduled for 4:30 p.m. Sunday and the game broadcast on Fox TV. It's being played at NRG Stadium in Houston.
The game that started as the AFL-NFL World Championship between the Kansas City Chiefs and Green Bay Packers in 1967 has evolved into one of sports' premier spectacles, bigger than the World Series, NBA Championship, Stanley Cup and March Madness.
It's also one of the biggest party days of the year.
People may not know their X's and O's, but they know one thing for sure: An ice cold beer goes well with spicy wings.
"Whenever there's a game, we give it a lot of attention," said Sultan Abbas, manager of Canyon 66 Restaurant and Lounge at Ramada Inn Kingman. "When you're in our restaurant with 122 seats and 22 televisions and connected to the sound, you almost feel like you're on the field watching it live."
Canyon 66, with its 90-inch TV at the front of the restaurant, is throwing a Super Bowl bash with a special menu of about a dozen items and $1.66 domestic draft beers and $2.66 premium beers.
Abbas said he was hoping to see the Arizona Cardinals in the Super Bowl, having come close last year, losing to the Carolina Panthers in the NFC Championship. Otherwise, he wishes the best of luck to both New England and Atlanta.
"Whoever wins, I'm happy for them," he said.
If you want to enjoy Super Bowl festivities, here's a list of Kingman parties:
• Canyon 66 Restaurant and Lounge: 3100 Andy Devine Ave.; Super Bowl party with menu items including field goal wings or 50-yard sliders for $7.95, and safety combo and touchdown sliders for $13.95. Domestic draft (16 ounce) for $1.66; premium draft for $2.66. Serving beer from Black Bridge Brewery in Kingman and Mudshark in Lake Havasu City, and wine from Stetson Winery in Kingman.
• Cerbat Lanes: 3631 Stockton Hill Road; discounted snack bar items and drink specials; most TVs in town, best sound and new expanded outside patio.
• Chili's: 3840 Stockton Hill Road; normal football happy hour specials all day, including selection of 10 appetizers from $3 to $5; $3 small domestic draft and well drinks; $4 house wine and classic margaritas; $5 Presidente margaritas and large premium drafts. Take-out party platters available.
• Green Hole Sports Bar: 710 Eastern St; party starts at 2 p.m. with $2 aluminums (can beer), $1 mimosas, $3 drafts, $3.49 pickled bottle caps and 12-piece wings for $9.99. Chance to win prizes from Budweiser. Not a bad seat in the house.
• Sundowner: 4400 N. Stockton Hill Road; soft opening Super Bowl party at the former MonkeyButz saloon with bar grub, Philly steak and hot pastrami sandwiches, fresh-cut French fries. Beer specials. Prices have yet to be determined, but they'll be "reasonable," new owners Terri and Craig Bouchard said.
• Time Out Tavern: 2601 Stockton Hill Road; $2 bottles of Bud and Coors, 50-cent wings, prizes, six TVs and 60-inch big screen.
• Fireside Lounge: 1716 Hoover St.; happy hour prices from 2-9 p.m.