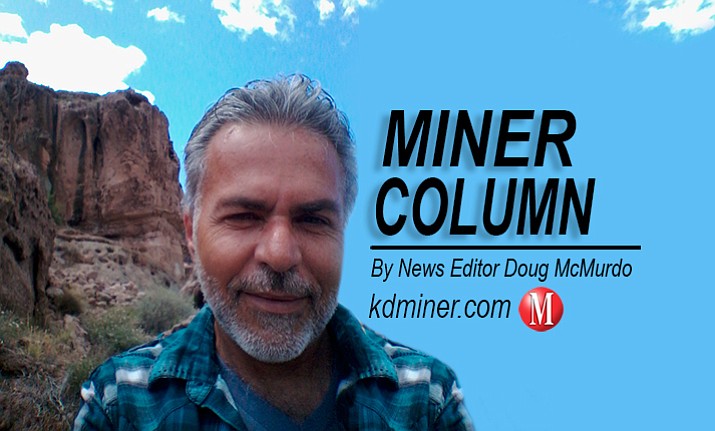 Originally Published: February 5, 2017 6 a.m.
Cities, like people, have personalities. Chicago is violent and politically corrupt. New York City is incredibly hectic and obscenely expensive. Vegas is full of vice and other sins.
What is Kingman's personality? What is the city at her core? What is Kingman's essence?
Because personalities are anything but one dimensional, consider: Chicago might be a blood-soaked shooting gallery, but it also is known for its culture, cuisine and Cubbies. New York has Broadway and Times Square. Vegas is a playground with something for everyone.
Kingman is known by some as a meth town. That's patently unfair. The overwhelming majority of people here despise the drug. It's also known as a railroad town, which wins points for fans of nostalgia and commerce. It's also considered a mining town, but those days are pretty much behind us.
Slowly but surely, Kingman is starting to gain attention for being what the city always wanted to be: One of the must-see destinations for tourists traveling Route 66.
Busloads of people – literally – are stopping at the Ramada and other hotels and motels. They're buying food and souvenirs and making memories to share with the folks back home.
While Route 66 is not the answer to Kingman's economic questions – that requires big employers who pay good wages – the iconic highway certainly helps generate sales tax.
The city should continue marketing Route 66. The city also should continue doing what it can to assist downtown's evolving revitalization.
A downtown with a thriving nightlife and Route 66 make a perfect marriage. It is one piece of the economic puzzle. Here's another: If we provide people with the amenities that make life better, Kingman suddenly becomes very attractive to companies that hire a lot of people and pay them well.
We need the shopping and restaurants and cultural sights to sweeten the pie, because the government shouldn't be expected to create actual jobs, but it can certainly help to create the atmosphere that attracts the people who create actual jobs. Jobs that put money in the bank and food on the table.
So what about the city's personality? I've struggled to define it since I began working at the Miner four years ago. I believe we could describe Kingman as very active, very sincere and slightly quirky.
We love to stay in shape. We have adult softball, adult Frisbee golf, adult kickball, adult dodgeball, a very healthy bowling population.
We have people who like to run from the cops, jump to conclusions, stretch the truth and kick dead horses.
Sorry. I digress.
On the sincerity front, I've never lived anywhere like Kingman when it comes to the battle against cancer. I know the awareness movement for this insidious disease has taken hold nationally, but in Kingman we seem to take it more personally.
We are driven to do everything we can for our friends and neighbors who suffer in some way with cancer. Businesses get involved and don't even ask for publicity. People who have cancer ignore it long enough to help someone else who has the disease.
We also are sincere when it comes to politics. Whether you're a hardcore conservative, a bleeding heart liberal or somewhere in between, Kingman never leaves you wondering what's on her mind.
Try this exercise: Go downtown on Friday night. You don't have to consume alcohol. There are great restaurants and a coffee shop. Mingle. Discuss the weather. Talk sports.
Saturday morning, drive by Centennial or Southside parks, depending on the time of year, and watch the kids playing soccer, baseball, football, or adults playing any of those games, plus a few others.
Take the kids to the splash pad at Cecil Davis Park and get soaking wet right alongside them. Go visit the community garden while you're there.
On Sunday, go to church. If you don't belong to a local church, pick one at random.
Sit down, smile at everyone you see. Listen to what the clergy has to say.
One weekend. It could change your entire attitude about the place you call home.