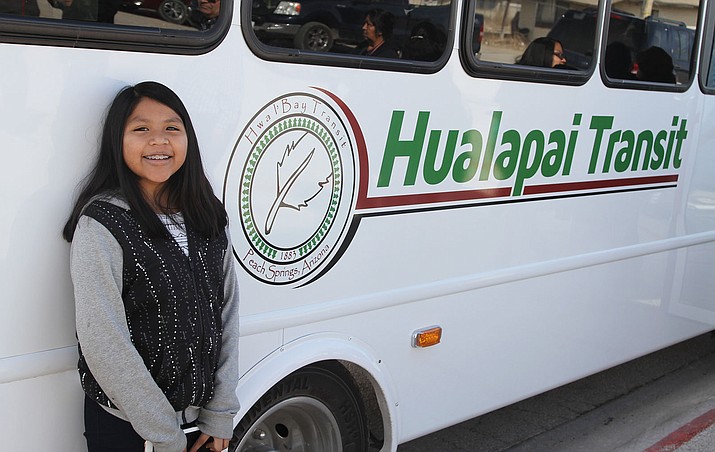 Photo by JC Amberlyn.
Originally Published: February 6, 2017 6:04 a.m.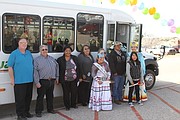 The Hualapai Tribe has launched a public transit service within the Hualapai Indian Reservation and between Peach Springs and Kingman. Hualapai Transit will include the Hakđagwiva bus route, which will run about nine times a day in the reservation and is free.
It also includes the Kingman Ya:m Jo'h bus route that runs from Peach Springs to Kingman and back and will cost $9 round trip.
The cost is $5 around trip for ages 50 and older and the disabled. The route will connect to Kingman Area Regional Transit buses at the Kingman Walmart. Currently, the transit line consists of two 14-passenger buses for in-town use and one 30-passenger bus for the Kingman-Peach Springs route.
The Hualapai Tribal Council held a ribbon-cutting and ceremony Friday at the tribal offices. Sherry Counts and Bonita Imus said prayers and blessings.
Hualapai Transit was made possible thanks to multiple grants from the Arizona Department of Transportation, the Federal Transit Authority and supplemental funding from tribal transportation construction funds.
The Hualapai Tribal Council thanks all those involved with this project, including the Hualapai Tribe Planning Department, Hualapai Tribe Health Education and Wellness Department, Hualapai Tribe Public Services Department, the Arizona Department of Transportation, KART, the Western Arizona Council of Governments, Mohave County Public Works, the City of Kingman, with consulting by Kimley-Horn and Associates and M. Greene Planning and Resource Development.
They also thank Rob Owen, the city's Public Works director; and Veronica Asare-Yeboah of Mohave County Public Works. Mike Normand of ADOT also was singled out for thanks.

The Hualapai Transit Program held a Design Our Logo Contest in October and it resulted in a tie. Sunny Wakayuta designed the winning logo that is now featured on the side of the buses. Craig Talieje's winning design will be used as a wrap-around on the buses. Both received a certificate and an iPad for their artwork.
The new bus line is the culmination of two to three years' worth of work for the Hualapai community.
The Hualapai Tribal Council took input from the community to find out what it needed. There are many people commuting between Peach Springs and Kingman for work each day.
There also were needs for after-school bus service and a remedy to alleviate parking congestion during events and meetings in Peach Springs.
Drivers of the new buses are CDL certified and trained for customer service. Everyone is welcome to use the bus; one doesn't have to be a member of the Hualapai Tribe to benefit from the services.
There will be stops along the Peach Springs-Kingman route, including Valle Vista, Hackberry, Truxton and Valentine.
Riders in those locations are encouraged to call ahead of time and inform Hualapai Transit they will be waiting for service.
There will be buses dedicated to shopping trips Wednesday and Saturday mornings.
The bus departs from the tribe's office at 9 a.m. and leaves from the Kingman Walmart at 2 p.m.
Reservations will be required for these trips. To learn more or make a reservation, call Hualapai Transit at 928-769-6384. Visit their website at www.hualapaitransit.org for more information, rates, and route maps.
The Hualapai Tribal Council's goal is to respond to community needs and help both the tribe and its neighbors in the region.
If ridership numbers are there, the tribe could elect to expand services in the future.