Photo by JC Amberlyn.
Originally Published: February 6, 2017 6:03 a.m.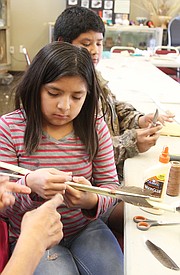 PEACH SPRINGS – The Hualapai Cultural Center is working to promote Hualapai cultural traditions and language through a series of classes.
Among these are Cultural Arts and Language Program classes, which may include projects such as drum making, wild plant identification and uses, creating rabbit nets and other items with yucca fiber, or other traditional skills combined with lessons on the Hualapai language. Drake Havatone, Bennett Wakayuta, Carrie Cannon and Bonita Imus work with tribal elders to instruct students by demonstration, participation and flash cards.
Some Hualapai adults have lost the knowledge of the Hualapai language and the Cultural Center focuses on teaching youth to learn it so that the language and the knowledge that comes with it remain a part of the Hualapai heritage.
On Friday, students were at the center learning how to make a bow, arrows, and a quiver to hold the arrows. They were also learning the Hualapai words that related to their project. For instance, a bow is called "pu'/puchinyar." A knife is "kwa." One might "gwe dimk" (take aim at a target) at a "qwa:q," a deer.