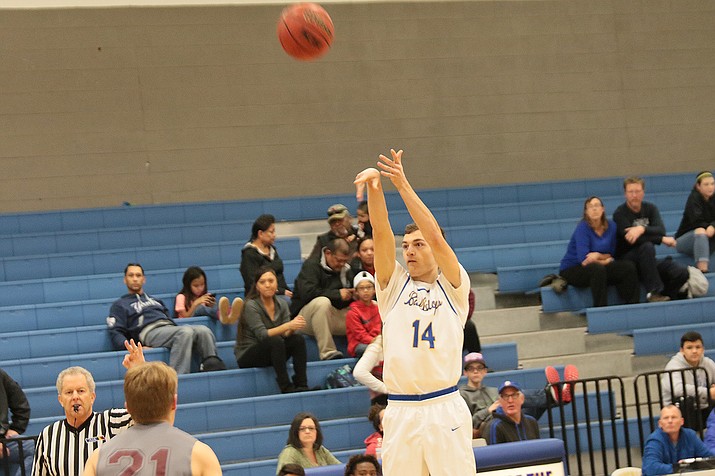 Photo by JT Keith.
Originally Published: February 10, 2017 6 a.m.
KINGMAN – Kingman's basketball coach Nick Juby was hoping for a better season than what his team finished up (9-18, 4-6 3A West Region). Winning their final game of the season on the road against Odyssey 54-45 Wednesday night will give his team momentum heading into the summer and something to build on for next season.
"Proud of how my guys came together one last time," Juby said. "Especially when we had already been eliminated from playoff contention, they played their guts out for me."
There is a lot to build on next season starting with: Sophomore Jayzon Hundley who scored 19 points, Tobias Bagby added 15, point guard Elijah Howery put in eight points. Senior Jordan Dupee, Tony Napier, and Jonathan Hunt had four points apiece.
In this game, Hundley and Bagby scored 17 of the Bulldogs' 19 points in the fourth quarter, and went 8 of 10 from the free-throw line to stop Odyssey's comeback.
"Feels great to finish the season with a win," Juby said. "As always we never make games easy. Couldn't be happier to send my seniors off with a win in their final game as a Bulldog."
Juby finished with nine wins, one more than in his first season.
GIRLS BASKETBALL
Kingman 37, Odyssey 36
At Odyssey, Kingman Lady Bulldogs coach Tony Kern did a respectable job in his first season. Kern put in a new system, and had the Lady Bulldogs playing .500 basketball in the conference as they defeated Odyssey on the road 37-36, Wednesday night.
Kingman (9-13, 5-5 3A West Region), will have a season with Kern's pressing style plus summer ball, look for them to be in the thick of the 3 A West Region next season.
More like this story