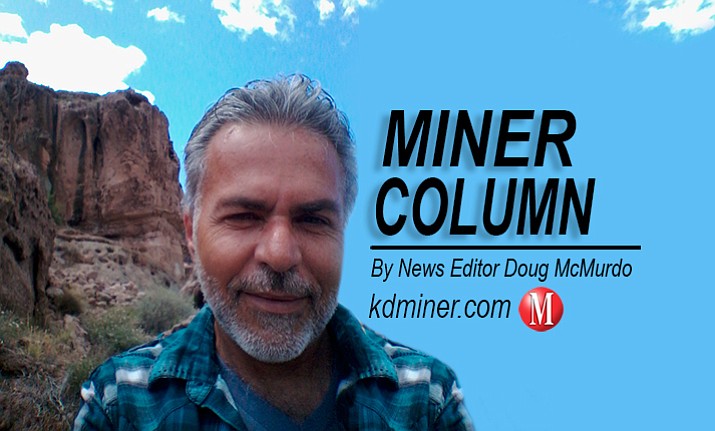 Originally Published: February 12, 2017 6 a.m.
I suppose it is human nature to complain about potholes. I imagine the complaints started shortly after the wheel was invented around 3,500 B.C.
Here we are thousands of years later and we're still cursed by lousy roads. Instead of wheelbarrows and chariots having a bumpy ride, it's expensive to repair cars and trucks and motorcycles.
I just bought new tires for my Ford F250. Nothing makes you notice potholes faster than an investment of several hundred dollars. Some of them are so big it would be cheaper to build a bridge over them than it would to fill them in.
This is where I'm supposed to tear into the city, county and state road departments, rage about all the taxes I pay and generally make government look inept and nonresponsive. That's called venting.
It's also called unfair. And the easy way out.
If I were to toss darts at a political subdivision, it would be the Arizona Legislature.
It's been years since lawmakers took away millions of gas tax dollars from cities and towns. They robbed us to pay their own bills. But that was done during the worst of the Great Recession and things are better now in the Phoenix area – the only region in the state that gets more than its fair share of attention from state senators and representatives. The rest of us are the proverbial redheaded stepchildren. We literally fell years behind.
The city and county need to aggressively seek full restoration of gas taxes, called Highway User Revenue Funds. This is the primary revenue stream for roadbuilding, maintenance, and repair. Simply put, the number of employees is too small to keep up with problem roads. All they can do is react.
The city has commissioned a study that will develop an inventory of every road under its jurisdiction. The next step is rating those roads and the final step is to develop a preservation plan that, in theory, will allow the city to upgrade the worst of the roads first.
But the best study in the world followed by the most sensible plan won't do any good if the city can't afford an adequate workforce to perform the work on schedule.
Make the state pay up on HURF. We'll never be pothole free, but we can certainly reduce the number of them – and make driving a little less hazardous for the motoring public.
Wrestling Championships are Over
The high school state wrestling championships are over as you read this, but haven't yet taken place as I write this column on Thursday.
I enjoyed editing sports writer J.T. Keith's stories leading up to the tournament. Reading what wrestlers have to say – and what the coaches have to say about these wrestlers – took me back a number of years to when my own son, Shane, was a high school wrestler.
Shane never vied for a state championship, but the lessons he learned by being a part of something bigger than himself left a lasting impression that will serve him well for the rest of his life.
Wrestling demands a lot. You have to have physical and mental strength and to do that you have to work hard in the gym and on the mat. You have to overcome doubts and develop confidence. Most importantly, you have to push yourself until you think you can't go one more inch – and then you go another inch.
Shane enlisted in the Navy while still in high school and went to basic training two months after graduation. He's deployed twice to the Middle East since then. He's won medals and earned promotions and was Sailor of the Year.
When he's not working he's boxing, like his old man used to do, with hopes of making the Navy Boxing Team. He doesn't box because he likes getting punched in the face or vice versa. He does it because he wrestled in high school and he learned something about himself that was good and true.
And no matter how Kingman's high school wrestlers fared this weekend – I hope they all bring home championships – they have accepted a challenge not many have the courage to face and will come out stronger for the effort.