Originally Published: February 12, 2017 6:06 a.m.
The worst of Kingman's winter is over – not that it ever got that bad – and summer's fiery heat is still more than 100 days away.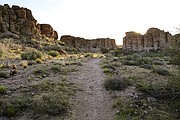 "Kingman is fortunate to have trails so close to home on the desert floor and up in the pines," said Kingman Tourism Director Josh Noble. "There are 19 miles of hiking and biking trails in the Cerbat Foothills Recreation Area and 16 miles in the Hualapai Mountains."
Now is the time to get outside and explore all this region has to offer.
Camp Beale Loop, Monolith Garden Trail, Moss Wash, Cherum Peak Trail and the Hualapai Mountains are in the immediate area. These half dozen trails are among the most well-known and cater to hikers able to handle challenges ranging from moderately difficult to hard, but there are so many more to choose.
In fact, you could hike a different trail every day for two weeks and still have a list to complete.
Noble said the desert trails are beginning to bloom.
"Though the trails in the Cerbat Foothills area are best enjoyed at spring time when flowers are in bloom, these trails remain popular with our travelers all year long," said Noble. "It's common to find cars with out-of-state plates, some with a bike rack, out at our trailheads."
The numbers support his assertion. A visitor survey currently underway – Noble pulled 193 surveys representing 502 people that have been completed to date – shows that 37 percent of people staying in local hotels and motels are interested in hiking trails.
The interest is highest among younger visitors, those born between 1980 and 2000, said Noble, where the percentage is 52 percent. Nine percent of this age group is interested in mountain biking, compared to 4 percent overall. "That's still a pretty big number," said Noble. "One in 25 visitors is here to mountain bike."
Here's a look at a few of the more popular trails:
• Cerbat Foothills Trail includes Fort Beale Loop – 3.26 miles – Badger Trail – 3.20 miles – Castle Rock trail – 4.45 miles – and Cook Canyon Trail, an ambitious 8.10 miles, along with Monolith Garden.
The Cerbat Foothills Trail is an intergovernmental project between the city of Kingman and the Bureau of Land Management funded by the Trails Heritage Fund. The system sits on 11,300 acres of federal, state, county, city and private land.
Walk the same trails humans used 4,000 years ago when the Cerbat, Choninina, Archaic and Hualapai people lived here.
Camp Beale gets its name from the U.S. Army, which built a fort at Camp Beale Springs in 1871.
The animal sightings can be hard to come by, but the Cerbat Foothills Recreation Area is home to mule deer, coyotes, foxes, quail and dove, a number of raptors and the Sonoran desert tortoise.
How to get there: From Kingman, take U.S. Highway 93 five miles north of the city limits. The Badger Trailhead is a quarter-mile north of the Highway 68 intersection – the first right turn after the intersection.
• The Cherum Peak Trail will get you into the pinion pine. You will want to bring a camera to take advantage of the breathtaking views you'll enjoy once you crest the Cerbat Mountains.
While categorized as a hike with a moderate degree of difficulty at just 2.5 miles, you climb 700 feet in elevation over two miles.
But once you get there, be prepared for wonderful panoramic views of the Black Mountains to the west and the Music Mountains to the east.
How to get there: From Kingman, take U.S. Highway 93 20 miles north of the city. Take the BLM's Big Wash Road at milepost 51 and head northeast about 13 miles, past Windy Point and Packsaddle recreation sites. The Cherum Peak Trailhead is on your left. If you start going downhill toward Chloride, turn around.
• The Dolan Springs Trail is a network of trails featuring hikes between four and 10 miles. Hikers share this trail with mountain bikers and horseback riders.
In fact, there's a drive-through horse trailer parking area and hitching rail.
The trail is located between Thirteenth and Fifteenth streets.
To get there: Take Pierce Ferry Road to Fifteenth Street. Turn right onto Lost Mine Road and take it to Fourteenth Street. There's a jeep trailhead there and the trail is staked with flags.
• Aspen Springs Trail is in the Hualapai Mountain Park. Like most trails, it is open to hikers, mountain bikers and equestrians.
Work on this system of trails began in the 1930s and has been constantly improved since then. There's about 10 miles of trail to choose from rated from easy to moderate.
To get there: Take Hualapai Mountain Road to Hualapai Mountain Park and follow the signs.
• Whiterock Canyon Trail is for the more adventurous hiker. Located in a volcanic area below Hoover Dam, it features the Arizona Hot Springs, where groundwater is heated by molten rock. It moves at a rate of about 400 gallons a minute at temperatures ranging from a balmy 85 degrees to a hot 120 degrees.
To get there: take U.S. Highway 93 to south of Hoover Dam and down to White Rock Canyon Trailhead. You can follow the trail all the way to the Colorado River, a distance of six miles.
These are just a handful of the many trails involving hundreds of thousands of acres that showcase Mohave County's diverse and dramatic natural beauty.
Treat your mind and your body to a walkabout – and do it before the sun gets too close.
Rules of the Trail
• Stay on the designated trail and stay on the right
side, just as if you were driving.
• Downhill hikers and bikers yield to those traveling
uphill. Approach blind turns as if someone is right
around the corner.
• Keep pets on a leash or otherwise under control.
• Plan ahead and prepare. Properly dispose of waste.
• Respect wildlife and be considerate to those with
whom you share the trail.
Make Proper Preparations
Hiking any trail in a remote area requires planning and preparation. Terrain can be hostile and at times unforgiving. The weather can change in a heartbeat. Ankles get sprained, bodies get dehydrated.
Here's a few tips: Don't hike in the dark – know when the sun sets and give yourself an hour for every two miles and an additional hour for every 1,000 feet in elevation.
Know the route. There are topographical maps and trail guides online.
Know your limits. If you don't know your limits, discovering them miles from help in a remote area is never a good idea.
Check the weather ahead of time. Don't hike alone unless you are highly experienced and familiar with the trail. For everyone else, bringing a minimum of four people is suggested. Never leave an injured person alone.
Tell someone where you're going and when you expect to be back.
Other helpful recommendations:
One gallon of water per person per day. Wear sunblock, a wide-brimmed hat, sunglasses, a map and a compass (and have the know-how to use them), a printed trail guide, signal mirror, whistle, space blanket, waterproof matches or lighter, lightweight flashlight, fire starters, first aid kit, tube tent, and high-energy food. All of these items can easily fit in a standard backpack.