Originally Published: February 13, 2017 6:04 a.m.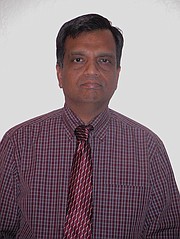 The weather has turned abnormally warm and some people might get the sniffles from what they consider a premature allergy season.
Dr. Natarajan Asokan of Trinity Allergy, Asthma, and Immunology Care, P.C., treats food, latex, insect bites and stings, and one of the biggest allergy culprits - plants. He said allergy season in Kingman is a year round deal.
Pollen from blooming cedar and juniper trees start floating anywhere from late December to May. Bermuda grass allergies are highest April through September. Various weeds dry out after the hot, dry summer, spewing even more allergens into the air, leaving no month free of misery.
"Spring and fall are bad times everywhere," he said. "There's something in the air all the time."
The warm Arizona climate has always attracted newcomers who often bring stuff with them. One of the most famous allergy-causing transplants is the Russian thistle – otherwise known as the tumbleweed. Contact with the plant can cause skin rashes and the pollen can create nasal havoc.
The arid weather only exasperates allergies. Numerous types of pollen sit on the dry desert floor (rather than soak into the ground like in wetter climates.) The wind can blow that pollen for hundreds of miles.
"You don't have to have certain plants in your yard to be exposed," Asokan said. "The wind will bring it to you."
Treatment
Asokan has three methods of calming the pain. The first is simple – avoidance. If you're allergic to pet dander, lay off the cat collection.
The second and third methods are different forms of medication – particularly over the counter and prescription antihistamine pills and sprays.
Over the counter medications are readily available, but Asokan recommends sprays over pills. He said the sprays (as long as they're not decongestants) control six of the chemicals released in the nasal passages during an allergy reaction. Pills only get one.
"That's why sprays are better in the long run," he said.
He said many of his patients don't like putting things in their nose and would rather take pills. If they do prefer pills, they should avoid sedatives like Benadryl.
"People might think it won't make them tired, but it will still slow their reflexes," Asokan said.
Asokan said he can prescribe Singulair (brand name) and Montelukast (generic) but still recommends nasal sprays.
The third option is allergy injections. They take longer to help a patient build a tolerance to the allergen, but are more effective in the long run.
Most of those injections are geared toward animal dander and pollen. A combination of skin tests and family allergy history can help determine what injection works the best. The doses start out small and increase until the patient builds a tolerance to the allergen.
"It usually takes up to a year," he said.
He compared the medications to fighting a fire.

"The pills and sprays put out the smoke, injections put out the fire," he said.
Asokan briefly mentioned sublingual immunotherapy – under the tongue doses of an allergen to boost tolerance to a substance. They've been tried in Europe but have yet to get Food and Drug Administration approval in the U.S.
Allergy Misconceptions
Allergy treatment misinformation usually leads to wasted time and even worse reactions.

One misconception about sprays is that they're all addictive. That's only partially true. Over the counter meds (with the exception of Flonase) like Afrin can be addictive. Asokan said prescription sprays are not. Some people have to take the sprays numerous times a day for them to be effective. Most sprays are now "once-a-day" doses, and those doses work.
Another common misconception to treatment involves what Asokan called the "chicken pox myth." People think that by exposing themselves to more allergens, they'll build an immunity. That won't work. The human immune system is more complex than many realize.
"The part of the immune system that deals with an allergy is different than the part that deals with an infection," Asokan said.
The body can adapt to a bacterial or viral infection. The body behaves differently with allergens. The more exposure to an allergen will only make a reaction worse.
History Counts
Asokan said like all of medicine, the human body is subject to change.
He gave the example of someone who may have been allergic to penicillin as a kid, but may not be allergic to penicillin as an adult. He said the best thing to do is get a skin test, which can almost immediately determine a lingering allergy.
He recommended getting screened for food and environmental allergies if there is a strong family history of nasal allergy, asthma or eczema. He also said getting kids as young as 3-years-old screened will greatly improve treatment of potential allergies. Waiting until a child is older will only complicate detection and treatment.
"It's easier to put out a small fire than a big one," Asokan said.