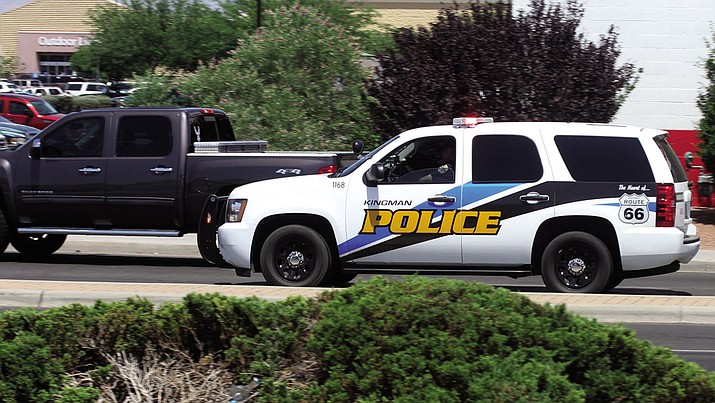 Originally Published: February 15, 2017 6 a.m.
An increase in heroin and prescription painkiller abuse led to a dramatic increase in the city's crime rate in 2016, according to the Kingman Police Department's annual report.
According to Chief Bob DeVries, there was an almost 25 percent increase in demand for service from 2015. In 2016, KPD responded to 44,232 calls for service or officer initiated activity.
Violent and property crimes were up by stunning percentages: Incidents of robbery increased 62 percent; burglaries increased 70 percent; and theft jumped 26 percent. Substance abuse, considered a strong factor in the spikes, increased nearly 50 percent in one year.
Deputy Chief Rusty Cooper said the rise in crimes and arrests can be directly attributed to the rise in opiate and opioid – including heroin – abuse.
"The increase in heroin use is directly correlated to the increase in theft and vehicle burglaries," he said. "It's an increase we're not happy with, but we're proud of the hard work the officers are doing in response."
The crimes attributed to a 15 percent increase in case assignments and arrests for the Detective Bureau, which achieved an 85 percent clearance rate – well above the 65 percent national average.
"The arrests are up and our detective division has a very impressive level of success solving those cases," Cooper said. .
In response, overall arrests increased 49 percent (adults and juveniles). Adult arrests alone increased 65 percent. The report documents the department's efforts to address the increase in violent crime and demand for service.
The department is at full staffing levels beginning this year. However, the increased call volume coupled with numerous officer injuries in 2016 required the department to reallocate officers from the gang task force to patrols. The three newest officers remain in the field training phase, two officers remain on light duty due to injuries and the increased demand for service continues to keep officers off multiagency drug and gang task forces.
"The increase in service has increased dramatically and we're with the same amount of people," Cooper said. Neighborhood Services responded to an additional 3,200 calls regarding code enforcement or animal control complaints.
KPD wasn't immune to act of violence against police. There were five officer involved shootings in Mohave County over a three month period in the fall – two of those shootings occurred within the City of Kingman – resulting in two citizen deaths and Detective Dennis Gilbert being seriously wounded in the line of duty.
"As unfortunate as those situations were, we are thankful that the most seriously injured of the officers has recovered and returned to full duty," DeVries said.
Dogs on Duty

The department's young K-9 unit experienced success and tragedy in 2016.
"In 2015 we announced with pride the establishment of our patrol K-9 program," DeVries said. "In just one short year the K-9's achieved tremendous success in the apprehension of criminals and detection of drugs."
KPD K-9 Officer Amigo suffered heat exhaustion in August while assisting in a search for two stranded and injured hikers at White Cliffs and was rushed to Cerbat Animal Hospital. He was later transferred to Las Vegas Veterinary Emergency and Critical Care Center where he died Aug. 20.
"His service and dedication will always be remembered and further honored with a memorial that will be placed at the department in 2017," said DeVries.
Violent and Property Crimes
DeVries said the serious uptick in crime – including major incidents, were in some way related to heroin or opioid abuse.
"It is important to note that each of the major crime sprees that occurred in the city, all of them had a nexus to heroin or opioid abuse," the chief said.
He recounted one suspect who was apprehended through a multiagency investigation was recently sentenced to 24 years in prison for his role in multiple residential and vehicle burglaries.
Domestic violence, often connected with substance abuse, rose by 23 percent. As a result of the upsurge in criminal activity, overall arrests increased to 4,468 in 2016, marking a significant 14 percent increase compared to the year prior. Overall, arrests have increased 49 percent over the past five years with adult arrests rising 65 percent over that same time period.
"We remain very active in preventative and educational measures to bring a positive impact to Kingman," DeVries said in the report.
Community Interaction
The report highlighted the many programs and coalitions KPD utilizes and interacts with on a daily basis.
Residents disposed of 284 pounds of expired or unused medications in the department's drug drop box located at the KPD station at 2730 E. Andy Devine Ave.
KPD was also the first department in Arizona to research, develop and implement a Narcan/Naloxone program for officers to utilize on heroin overdose calls. The drug when properly administered can reverse the effects of a heroin or opioid overdose. Within two weeks of implementation an officer was able to save the life of an overdose victim.
"Our willingness to pioneer the lifesaving program in Arizona resulted in the department receiving the first Law Enforcement Award of Excellence from the Arizona Department of Health Services," DeVries said. "They are currently using our program as a pilot for rural Arizona and an example of best practices in an attempt to expand the program throughout the state."
DeVries said social media has significantly enhanced community outreach. The department is fully engaged on Facebook, Twitter and its own KPD App that is available at no cost to community members. The department has been able to provide educational messages, broadcast alerts and provide prompt media releases using the various mediums.
DeVries said department's following has swelled over the past year with over one million reached on the coverage and video of the Sep. 29 officer involved shooting of Jeffrey Cave. Cave shot and seriously wounded Det. Dennis Gilbert. Lt. James Brice had a bullet pierce his clothes, narrowly escaping injury.
"The interactive mediums have increased our ability to literally reach thousands in a matter of moments," he added.
Traffic
In 2016, the department responded to 1,066 roadway and private property crashes. Officers issued 9,265 traffic citations and warnings for various traffic offenses, marking a 23 percent increase in comparison to 2015. Of those offenses, over 500 warnings and a dozen citations were issued in accordance with last year's ordinance banning drivers from using their cell phone while behind the wheel.
"I am proud of our staff and the professional manner they rose to in handing the increased demand for law enforcement services in our community," said DeVries. "They continue to utilize courtesy, professionalism and respecting their day to day approach in working with our residents and visitors alike."w
A copy of the report is available on compact disc for $5 per copy at the Kingman Police Department. Otherwise the report is available free of charge at www.kingmanpolice.com.