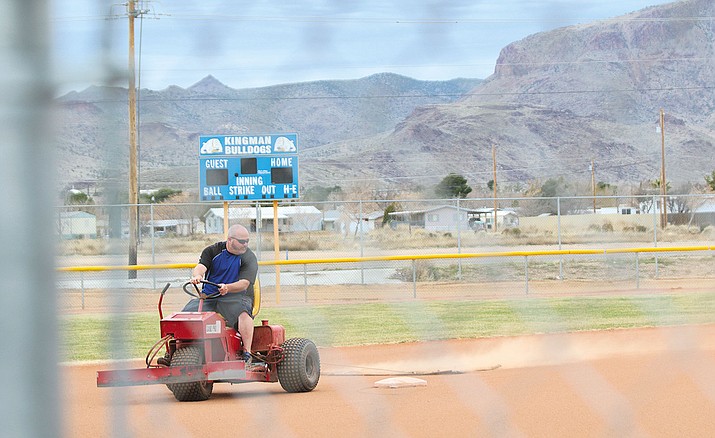 Photo by JT Keith.
Originally Published: February 16, 2017 5:58 a.m.
KINGMAN – Kingman Bulldogs second-year girls' softball coach Craig Lee feels good about the team he will put on the field in 2017.
The Bulldogs have moved down a division to the 3A West Region and will be playing schools their size. Hopefully, it will show in their wins and loss record this season after going (6-18, 1-11).
"Our goals are to win 11-12 games this season," Lee said. "I'm hoping for a chance at the playoffs. It's not going to be easy and there is no reason we can't be competitive against every team we face. River Valley is the class of the division, last season they were 17-1, and they went down a division with us. We have a lot more teams on our level."
The surprise of the camp has been freshman Anastasia Tanner, a freshman who has just outworked everyone and has a great attitude. Look for her to push to be in the lineup and playing left field on opening day. Tanner will lead a youth movement for the Lady Bulldogs with seven sophomores, three freshmen, one junior, and five experienced seniors. The five seniors are Natalie Borgens, Anna Dunn, Chelsea Heitman, Cheri Roundy, and Alyssa Petty.
"Tanner is a terrific outfielder," Lee said. "She fits in immediately. Most freshman struggle to fit in, not her. She is the hardest worker on the team right now."
This year, look for Kingman to be aggressive on the base paths, stretching a single into a double and to steal more than they have in recent years. Lee feels this is the fastest team in terms of foot speed since he has been coaching. With an emphasis on aggressiveness, Lee hopes his team's speed will force other teams into errors and create scoring opportunities for the Lady Bulldogs.
Lee likes the versatility of his team and that his players can play multiple positions. With key returners Bailey Dodge, Keara Tauta and Payton Chamberlin, a big part of the Lady Bulldogs team will be the health and availability of returning starting pitcher Natalie Borgens.
Coach Lee has taken a different tack with the team this season by encouraging his players to take ownership of their team by doing the little things: from cleaning up their home field to shoveling dirt and cleaning out their batting cages. He hopes the little things in their preparation off the field will translate into doing the little things that will help them win on the field.
"I'm very happy with the team we have coming back this season," Lee said.
Lee will lean on his assistant coaches Ron Bowman, Chris Borgens and Loyd Bell to help coach the team.
Kingman will play an exhibition game against Lake Havasu and Kingman Academy at 3 p.m. Friday at Kingman High School.
Kingman begins its season at home against Kingman Academy at 3:45 p.m. on Wednesday.