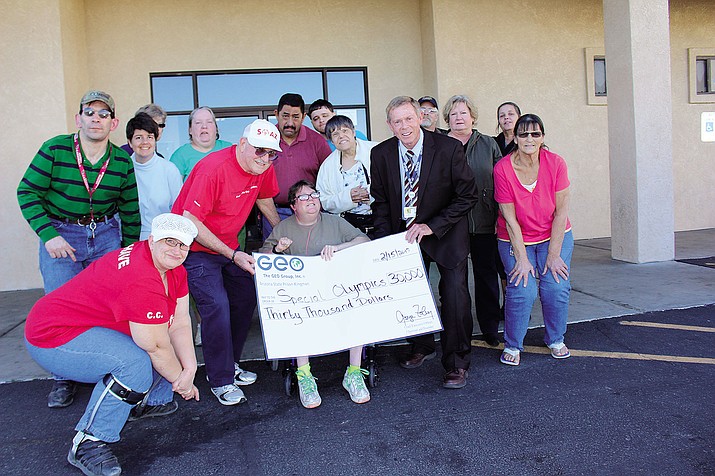 Photo by Doug McMurdo.

Originally Published: February 17, 2017 5:59 a.m.
KINGMAN - Serving others while serving their time, inmates at Arizona State Prison-Kingman raised nearly $30,000 that was donated to the local Special Olympics program. Warden Jeff Wrigley and Special Olympics coach Sam Simpson – and eight Special Olympians and their parents or guardians – met at Cerbat Lanes for a check presentation Wednesday afternoon.
"This is incredible," said Simpson, who began with Special Olympics when he moved here in 2004.
Wrigley said inmates raised about 97 percent of the $30,000 donation and staff the remainder.
The Arizona Department of Corrections allows prisons to conduct fundraisers that benefit certain organizations. Kingman Aid to Abused People, for instance, is another recipient of the prison's fundraising efforts, albeit it received a much more modest $1,300.
Wrigley said the Special Olympics fared well because the funds were raised during the holiday season.
The GEO Group partnered with Walmart, which provided items inmates could purchase in the prison commissary, things such as cloth sheets or pillowcases, which aren't normally available, along with special food items.
GEO Group spokeswoman Shannon Hilton was excited to see the check presentation, but not nearly as excited as were the Special Olympians, who profusely thanked Hilton and Wrigley.
The inmates know the items they purchased were marked up and that the difference between actual cost and mark-up is what goes to organizations like Special Olympics.