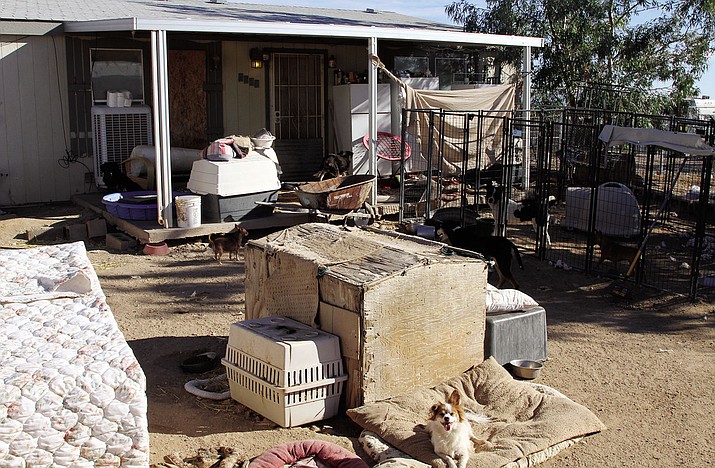 Photo by JC Amberlyn.
Originally Published: February 17, 2017 5:58 a.m.
KINGMAN – Hillarie Allison, founder of the shuttered RUFFF animal shelter in Golden Valley, was issued a summons Wednesday for a March 22 hearing at Kingman Justice Court on three counts of animal cruelty.
The criminal charges were filed against Allison on Feb. 2. The case was initially assigned to Judge John Taylor.
Mohave County Public Health officials closed the Rescued Unwanted Furry Friends Foundation shelter after visiting the 40-acre property on Laguna Road in early December.
They found unhealthy, overcrowded conditions with animals needing medical care, grooming and unsanitary food dishes and water bowls.
Public Health Director Patty Mead said there were a number of code violations, including no handwashing sink with hot water and soap, plumbing fixtures that were not properly connected, no bedding sand in kennels, open bags of animal excrete and no record book on the animals.
Some 170 dogs and 30 cats were put up for adoption or relocated to other shelters.
Allison, who has come under fire since 2002 for complaints of unsanitary conditions, was given until Dec. 30 to rectify the problems.
She was in admitted to Kingman Regional Medical Center for an undisclosed illness on the day animal control officers and health department officials came to the shelter. Her home was "red-tagged" by county officials as unsafe for human habitation.
Mohave County Board of Supervisors voted to revoke her special use permit for RUFFF in January.