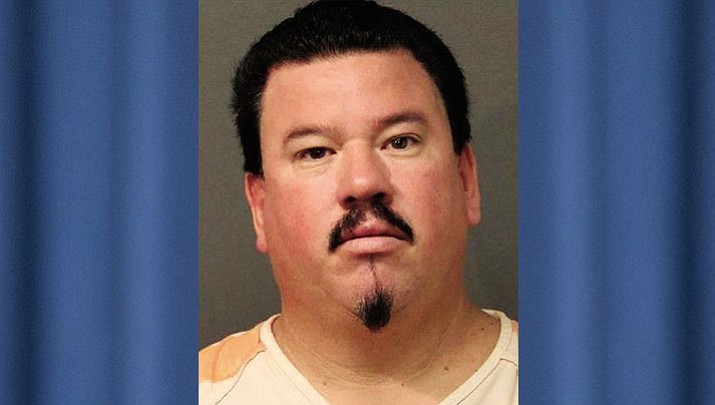 Originally Published: February 19, 2017 5:58 a.m.
KINGMAN – Convicted sex offender Mark Anthony Sandoval was sentenced Friday to 35 years in state prison by Superior Court Judge Billy Sipe for two counts of Class 2 felony child molestation.
Sandoval, 45, in a plea bargain, pleaded guilty to three of the 31 charges, including a Class 3 felony attempted molestation of a child under 12 years of age, which requires that he placed on lifetime probation should he outlive his prison term.
Sipe could have sent Sandoval away for over 100 years on all the counts, but was limited to two consecutive 17½-year terms for the two Class 2 felonies, imposing the maximum sentence due to the "cruel, heinous and depraved" nature of the crimes, he said.
One particular count was "most horrific," Sipe noted.
"I've never seen as a judge a more horrific child molestation," he said. "The Mohave County Sheriff's Office said the same. He's a predator, a child molester. He can't be fixed. We want to make sure he never has access to children again and he dies in prison."
Sandoval, who appeared to be crying at times during his sentencing, spoke for a couple of minutes, telling the victims and their family he wanted to apologize for what he'd done and asked if they would forgive him in their hearts.
"What I've been going through, this makes me a victim as well," he said. "They don't know what I've been through and the burden I carry."
He then asked Judge Sipe to "have mercy on me."
Defense attorney Sandra Carr asked the judge to consider mitigating circumstances in the case.
She said Sandoval himself was abused from age seven to 10 by an older brother, which later caused post-traumatic stress syndrome, and suffered a severe head injury from a bicycle accident in which he lost the "cognitive ability" to realize what's wrong with him.
"He does have behavioral issues from his childhood," Carr said.
Sandoval spent five years in an Arizona prison following a conviction in Mohave County related to child molestation in 1998. The state failed to recognize his mental condition while he was in custody, and with proper counseling, "there's a good chance he wouldn't be here," Carr said.
Mohave County deputy attorney Jacob Cote went into explicit details of the sexual acts that were forced upon the girls, one who was 8 years old at the time and one who was between 2 and 5 years of age.
"It's hard to compare the acts, which is worse, which is better," he said.
Both the mother and one of the victims read written testimony to the judge, asking him to put Sandoval away for life. The mother said she had to provide for her daughters and wasn't there to protect them.
"I failed my daughters, and it's a horrible feeling," she said in tears. "You have turned me into a very angry mother."