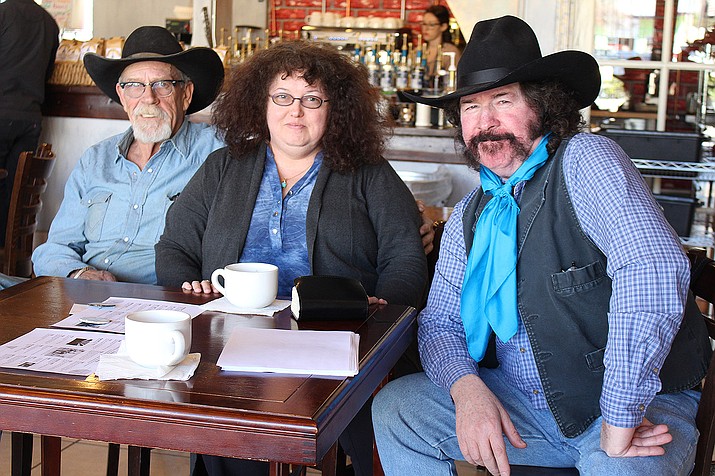 Photo by Hubble Ray Smith.
Originally Published: February 20, 2017 6 a.m.
KINGMAN – Stories get told over the years – some of them true, some of them based on truth, some of them twisted into mythical tales.
So when some 200 distant relatives and historians of Mohave County pioneer rancher Tap Duncan gather at the Diamond Bar Ranch for their first family reunion March 31-April 2, perhaps they'll straighten out some of the stories that portray the man as an Old West outlaw.
Duncan was linked to a bank robbery in Winnemucca, Nevada, and was reported to have run with Butch Cassidy and the Sundance Kid. He killed a man in Idaho, but was never charged.
The Duncan family, originally from Texas, had married into the Ketchum family, and Tap Duncan was an associate of Tom "Black Jack" Ketchum and his Hole in the Wall gang. Tap's older brother, Dick, was hanged for murder in 1891.
Kevin Stockbridge, a Kingman rancher whose mother, Joann Duncan, was the older sister of Jimmy Carl Duncan, said Tap Duncan was known for his ranching and cowboy skills, not robbery, rustling and murder.
"From what I was told, Tap was not an outlaw," Stockbridge said. "By the time he got to Mohave County, he was a farmer who shot well. He knew outlaws, yeah. There were not a lot of people in Mohave County back then. They probably came by the ranch."
That's the Diamond Bar Ranch outside of Meadview, once the largest in the country at more than 1 million acres. It's now Grand Canyon Western Ranch, where the reunion will be headquartered.
"Cowboy" Dave Sanders, an entertainer and historian at the ranch, has been researching land title deeds and newspaper accounts to find out more about Duncan.
He's working with Michelle Drumheller, great-great-granddaughter of Tap Duncan and organizer of the reunion, on a book about the Duncan family.
Duncan arrived in Mohave County in 1898 and settled at Knight Creek, not far from Wikieup. He bought Diamond Bar Ranch from Esther Starkey in 1910.
The Duncans developed the King Tut Placer Mine when gold was discovered on the ranch in the 1930s. An old stone house built by miners in the 1880s is still standing.
The most tragic part of Tap Duncan's life was that he was run down by a driver on Route 66 in Kingman in November 1944, said Bob Boze Bell, local author, illustrator and historian.
"He's a horseman and a cowboy who survived the Wild West and he's run over by a car. It's like a bad movie," Bell said.
Bell is a "shirt tail" relative of Duncan and will be one of the guest speakers at the reunion. He grew up in Kingman hearing stories about Tap Duncan and "Black Jack Ketchum" and was always intrigued by his relation to outlaws.
"Tap was a legitimate cowman," Bell said. "He was friends with outlaws and probably harbored them, but he was a legit guy."
Bell grew up in Mohave County, but has never been to Diamond Bar Ranch, so he's looking forward to crossing it off his bucket list.
Drumheller said she's been working on the reunion for months, traveling to several states to hunt down relatives and historical references.
"It's going to be fun. I never thought I'd be putting reunion together for my birth family. It's been neat," she said.
Anyone interested in going to the reunion or adding to the story of Tap Duncan is invited to call Drumheller at 703-975-2373, or email her at sawbigcat@gmail.com.
Photo information: From left, Kevin Stockbridge, Michelle Drumheller and "Cowboy" Dave Sanders, photo at left, met at Beale Street Brews to discuss the upcoming family reunion for Mohave County ranching pioneer Tap Duncan, scheduled for March 31-April 2 at Diamond Bar Ranch.