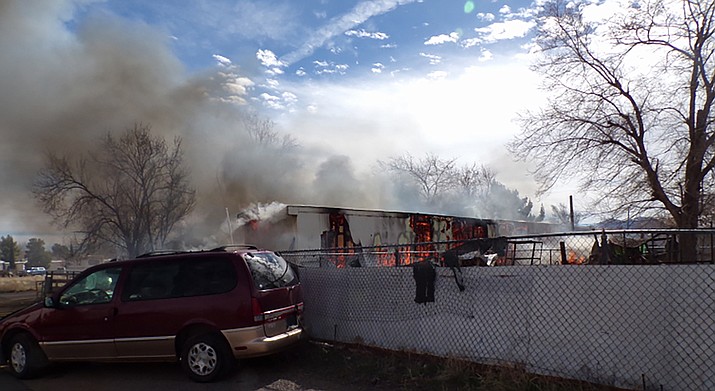 Originally Published: February 22, 2017 8:53 a.m.
KINGMAN - The Northern Arizona Consolidated Fire District responded to a house fire in the 3900 Block of Northfield Avenue in northern Kingman Tuesday at about 11:15 a.m. Efforts to fight the blaze were hampered by ammunition exploding.
Firefighters arrived to find a "fully involved" fire in a singlewide manufactured home and adjacent travel trailer, according to a Northern Arizona Consolidated spokesman.
The fire threatened to spread to homes on both sides of the property as firefighters were forced to use a defensive operation due to the extent of the fire and ammunition going off within the building during the height of the fire.
Crews had the fire knocked down in about 15 minutes with extensive mop up and overhaul needed. The occupants vacated the property before firefighters arrived. No injuries were reported.
NACFD responded with two fire engines, two chief officers and additional assistance with one engine from Kingman Fire Department. AMR/River Medical, Mohave County Sheriff's Office and UniSource also assisted.
The department is investigating the cause, which is unknown at this time. The estimated property loss also is undetermined.

Additional information regarding this incident may be directed to interim Fire Chief Tim Kind or Battalion Chief Don Dallman at (928) 757-3151.