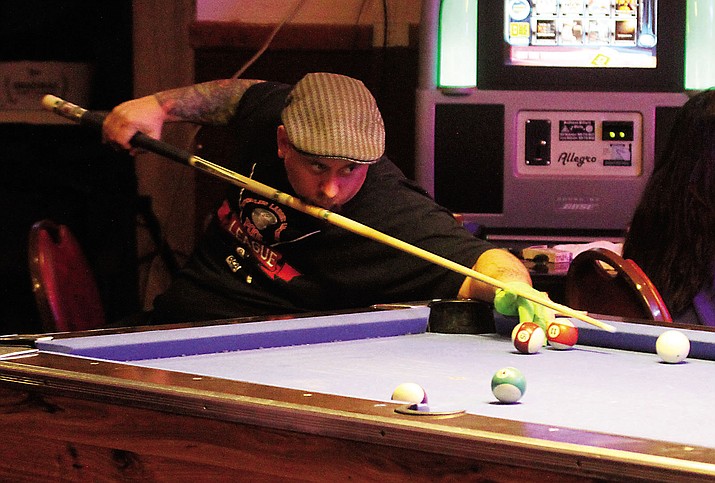 Photo by JC Amberlyn.
Originally Published: February 22, 2017 6 a.m.
KINGMAN – Shane Powell pushes his wheelchair around the pool tables like he still has two feet, navigating an obstacle course at the Tack Shed Saloon and Eatery. Of course, hand powered speed is different than the motor powered speed that put him in the wheelchair in the first place. Playing pool five hours a day, seven days a week saved his life, literally and figuratively.
"When I became handicapped, I wondered: what do I do with my time?" Powell said, the softball coach at Kingman Middle School. "Do you sit at home, get depressed, drink a lot of alcohol, or do drugs? I choose not to. I wanted to do something, pool encourages me to get back into the flow of life. I practice five hours a day. I love the game. I love the sports."
Powell is ranked in the top seven in American Poolplayer Association rankings.
"Other players that play standing up think they have a disadvantage," Powell said. But really, they have the advantage."
It took Powell two years of playing five to seven hours a day to get his mechanics and technique down in the wheelchair. He had to learn how to set up his shots while sitting. Powell had friends help him learn the game, and then he bought book, "99 Critical Shots of Pool," and watched videos.
Seven years ago, Powell was on his 2005 Honda CBR1000RR doing 185 mph on a race track in North Carolina on a cool day in April. During practice, Powell, an adrenaline junkie, loved the thrill of chasing speed and tried to go as fast as humanly possible. He hit a bad spot on the track and hit a guard rail. His airbag was defective and didn't deploy right and he hit the pavement. When he landed his body flipped and rolled seven times. He landed and felt his legs go over his head, and his body go limp.
"When I landed, I knew I was handicapped," Powell said. "I felt a snap, my legs went over my head, and I felt a pop in my hands. It caused me to flinch up. I just had feeling in my upper body but not in my lower body.
"I felt a little pain and broke my top rib, which was hitting my lung. I broke my sternum, legs, and fractured my arms, back and neck."
"Life goes on," Powell said.
"It affected me, if anyone says it doesn't, they're lying. I like challenges, and this is a big challenge.
"Because you're in a wheelchair doesn't mean life is done. You've got to keep going, the best thing to do is go forward and don't look back."
While in recovery, Powell and his wife Miranda visited relatives here in Kingman.
Sensing a need for change, they decided to move here from Michigan for a fresh start.
"I love Kingman. I'll never move anywhere else," Powell said. "These are the greatest people."
Powell credits his daughters, Isabelle, 14; Meghan, 12; Mya, 11, with his teaching approach to coaching girls. He believes in being calm and in explaining things to the… girls by talking to them softly. He doesn't feel girls respond to hard coaching like boys do.
He coaches his daughter Isabelle, a pitcher at Kingman Middle School ,and helps other pitchers with their form and mechanics.
"I have learned to live with being in a wheelchair," Powell said.
"I tell the kids if they want to play college softball they have to play to the best of their ability.
"They should practice until it becomes second nature to them. I tell them it takes 2,000 repetitions until a pitch becomes muscle memory. You must do things until it becomes a habit."
Powell reflects on his own athletic career as a two-year defensive lineman at Moorhead State University, until a back injury ended his career.
"People ask me all the time, if I had it to do all over again, would I?" Powell said.
"I tell them, yes, I would. Because if I would have died that day, I would have died doing what I love. To me that is living. I look forward to tomorrow."
And with that he can accept life in a wheelchair.