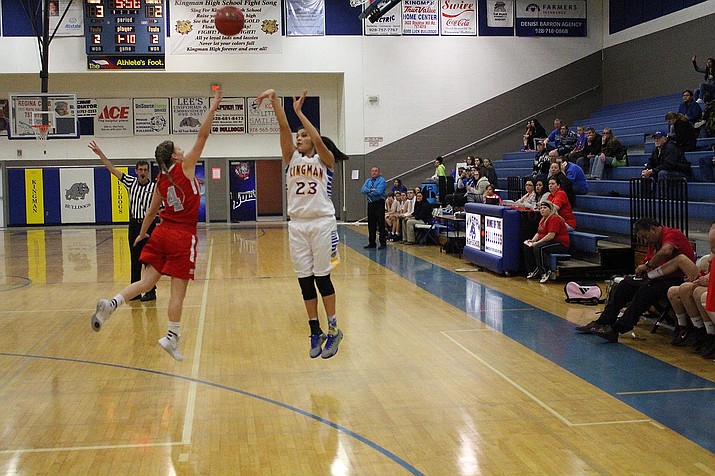 Photo by Shawn Byrne.
Originally Published: February 23, 2017 6 a.m.
KINGMAN - Tears welled up in the eyes of former Kingman girls' basketball coach Danny Gonzalez. His voice cracked with emotion. Gonzalez paused, wiped tears from his eyes underneath his glasses. He pursed his lips, took a deep breath and gathered his composure again before recounting how his daughter (Desirae) begged him to play her in the biggest game of her high school career.
Everyone who saw Desirae take that nasty foul during the first quarter of the Buckeye game knew she wasn't right after that. No one could diagnose what the problem was with her knee, only that she wasn't moving like she used to. She was never the same after that. To her, all that mattered was the game against South Mountain. After the season, she learned she tore her ACL. She had been playing with for three weeks.
In the 2016 AIA Girls Basketball State Championship, the last game of her high school career. Desirae had tears in her eyes and touched his arm softly and looked her dad in his eyes, and said to him, "Put me on the floor tonight, Dad, start me," Desirae said to him.
"At that moment, I was dad," Danny Gonzalez said.
Everyone knew something was wrong with Gonzalez, but they couldn't put their finger on it. It was a second-round state basketball game featuring Najiyyah Pack of South Mountain against Gonzalez, the big guns for their teams. Pack would go on to play at New Mexico State University, and Gonzalez would play at University of Nevada Reno. South Mountain went on to win the game handily, 74-41, ending both Gonzalez's career.
"I feel a huge responsibility about us losing, Desirae Gonzalez said. "I felt like I let my dad, mom and Kingman High School down," Desirae said. "Us losing to South Mountain, I just felt like if I was healthy we would have won. I had the utmost faith in my teammates. With our basketball I.Q. and dedication, we would have won. Our team had the love, hard work and dedication. My goal since I was a freshman was to get that championship."
Afterwards, in the locker room, it was hard to tell where the sweat stopped and the tears began. Teammates went around hugging everyone upset about the loss, and the end of their careers when the bombshell came. Coach Gonzalez told the girls, "I'm retiring as coach of the team, Gonzalez said, "This is my last game."
"It was an on the spot decision," Gonzalez said.
Most people think the coach resigned because he wanted to end his career with his daughter. Three years ago, he was hit in the side of his head with the handle from the shooting machine while tightening the spring from the shot back machine.
On Father's Day 2013, Gonzalez woke up and could not see out of his left eye. He has had three surgeries and is going blind in his left eye. He has had laser surgery twice and cataract surgery once. Gonzalez has been diagnosed with Retinal Vein Occlusion. He gets shots in his eyes to be able to see and to help prevent glaucoma.
"Everyone thinks I retired because of Desirae," Gonzalez said. "I leave it that way. I want to support my baby (Desirae). Sometimes, I know how much it hurts my wife Melissa about my condition. I want to coach again, but I have to get my eye taken care of first."
Gonzalez's goal is to be able to see clearly. His family and team motto is "Better Every Day." For today and the next day, his goal is to see better every day.