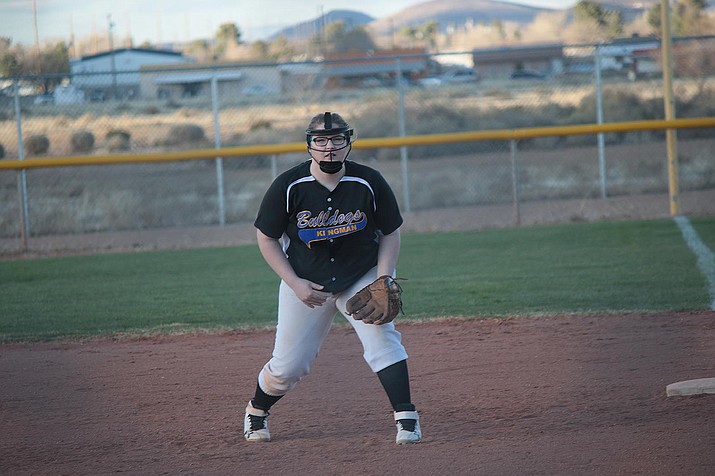 Photo by JT Keith.
Originally Published: February 24, 2017 8:33 a.m.
KINGMAN – Kingman Academy has a lot to play for this season and a lot to prove. The Kingman Bulldogs a young team with more questions than answers are anxious for the season to begin to find out where they stand.
The Lady Bulldogs suffered what might have been stage fright in their first game of the season. With only a couple of offensive hits, they suffered a 30-3 defeat to Kingman Academy Wednesday afternoon at Kingman High School.
The two teams had scrimmaged each other in an exhibition before the start of the season. The game was closer then, and gave the Lady Bulldogs' hope their youth would not be a factor this season.
But the Lady Bulldogs had no answers for Kingman Academy's Jessica Plew. Plew had four hits, including a double in the first inning to start an eight run scoring binge. She singled in the third to begin another eight-run inning.
The Lady Tigers turned the game into batting practice and ended up producing 23 hits and stealing four bases. Kassidy Campbell hit a bomb, Cassidy Hobbs had four hits, Shaunti Short, Maryssa Edwards, Trinity Player each had multiple hits to mercy rule the Lady Bulldogs after five innings. Along with the 23 hits the Lady Bulldogs gave up 16 walks and had seven errors.
Not all was bad for Kingman, they managed to get eight hits. Kearra Tauta was 2-of-2, with an RBI. Taylor Reed went 2-of-3 at the plate, and fantastic freshman Anastacia Tanner went 1-of-3, with a stolen base in her debut. Tauta and Morgan Stephens played well defensively for Kingman.
"We definitely weren't ready to play," Kingman softball coach Craig Lee said. "The Academy hit the ball really, really well, and we gave up 16 walks. We didn't help our cause and we gave up seven errors. Giving up 23 free bases does not help the cause at all. Our players are young and we will improve."
Kingman Academy travels to Bagdad at 5 p.m. on March 6.
Kingman plays at Kingman Academy at 5 p.m. March 7.