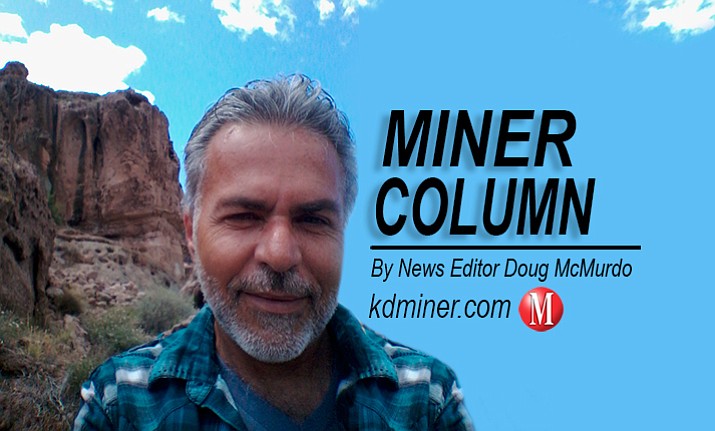 Originally Published: February 26, 2017 6 a.m.
Let's have a study to tell us how to study the last study we studied.
Government loves studies. Loves to spend lots of time and money on studies. So many studies I decided to study them all.
There's a study for water and one for fires;
A study for a new courthouse, for folks with priors.
There's a study for potholes and driveways, too;
There's even a study for why the sky is blue.
There's a study for burros, deer and rams;
A study about lions, which they slaughter like lambs.
There's a study at the airport on contaminants calls dross;
There's a study about leaders and who should be boss.
There's a study about arsenic in water deep underground;
And another about how to keep alive Kingman's historic downtown.
There's a study for traffic and another for walkers;
There's a study for babies and old folks in rockers.
There's a study for shoppers and what they might buy;
There's a study for pot and people who get high.
There's a study for a border wall and what one would cost;
There's a study about drivers who always get lost.
There's studies for wind power and energy from solar;
There's a study about the climate and bears that are polar.
There's a study about school bullies and school recess and school lunches;
A study on why inmates always trade punches.
All of these studies are keeping people kind of busy;
All these studies are making me dizzy.
Okay, now I got that out of my system, let's have a conversation regarding this week's joint decision to study the water situation in Mohave County.
The county's board of supervisors and the Kingman City Council in separate meetings on Tuesday elected to go in halfies on the roughly $400,000, three-year study undertaken by the U.S. Geological Survey.
I support this particular study only because it should have been done decades ago. This is probably money well spent, and kudos to both the city and the county for at least doing something.
It's obvious state lawmakers couldn't care less about the future of Mohave County. This month, state Rep. Regina Cobb, R-Kingman, introduced a bill that would have prompted the state to monitor water wells in Mohave and LaPaz counties, both that have become home to massive alfalfa farming operations.
The bill never made it past the committee stage. A committee of eight, to be precise, and Cobb's bill was shut down in a 5-3 vote by both Republicans and Democrats.
Eight people held the fate of Northwest Arizona in their hands and five of them dropped us like an insurance company.
You know who's against monitoring water usage? Farmers and well drillers. Nobody else is against this commonsense approach to water management.
So, now that it's clear as water we can't count on Phoenix to do the right thing, we more than ever have to rely on local government to protect us.
This is going to prove difficult with the state holding the purse strings and the rulebook and the votes.
Hopefully, when the USGS reports on its findings – in 2020 – the news won't be as bad as we fear it is today.
If any good has come from this devastating loss, it is that we know Cobb is at least fighting the good fight on our behalf. Now we need state Sen. Sonny Borrelli to do the same. He's the senior member of our legislative team and now is the time to show leadership.
In the meantime, do what you can to conserve water. Every drop saved helps.