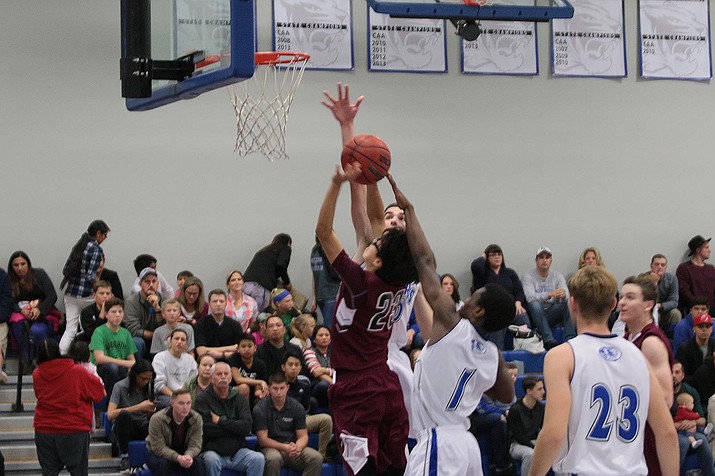 Photo by JT Keith.
Originally Published: February 26, 2017 6 a.m.
KINGMAN – Lee Williams opened their season on the road at Kingman. Hits and errors plagued the young Bulldogs as their pitcher Luke Ness battled the whole time he was in before being pulled.
The Vols countered with lefty Carter Rhoades, who shut the door on the Bulldogs allowing two runs. Not only was he strong on the mound, he was stout at the plate with three hits as Lee Williams' mercy ruled Kingman, 12-2 on Friday.
"I feel like we played good for the first game," Rhoades said. "We came out with a lot of energy and team momentum. We shut them down on offense early on defense and got ahead on offense."
"We expect to come out and play well," Lee Williams coach Patrick Boyle said.
Rhoades was impressive on the mound because he was able to get ahead of hitters and throw strikes early in the count.
"We just need to not give up on ourselves," Kingman coach Chad Baitinger said. "It is still early in the season and we are young. We have a lot of growing to do.
Lee Williams will be at home against Lake Havasu at 3:30 p.m. on Monday.
Kingman will be at home against Parker at 3:45 p.m. on Tuesday.
Saturday
Bagdad 5,
Kingman Academy 4
Kingman Academy, playing two, almost pulled the second game out against Bagdad Saturday. With the score tied at 4-4 in the bottom of the fifth, a Bagdad batter hit a sacrifice fly to give them a 5-4 victory.
Bradley Hecker started for the Tigers, going four strong innings, surrendering three runs, seven hits while striking out three. He gave up one walk.
Levi Garcia went two-thirds of an inning, giving up two runs on two hits while striking out one batter.
Kaden Bean, Ryan Hurley, Hecker and Garcia all managed a hit for Kingman Academy.
Wickenburg 8,
Kingman Academy 7
Kingman loses a heartbreaker. The game was tied in the bottom of the sixth when a Wrangler batter stepped to the plate and singled off Noah Weiler driving in the winning run.
The Lady Tigers gave up only three hits and controlled the game. Kingman Academy had a big second inning, scoring five runs on singles by Landon Colvig, Levi Garcia, Kaden Bean, and on a fielder's choice by Brad Ogden.
Pitcher Adam Chastain took the loss for the Tigers, going one-third of an inning, allowing three runs, on zero hits.

W. Solper earned the win for Wickenburg. He went two innings, surrendering zero runs and three hits. Adam Chastain took the loss for Kingman Academy. He pitched one-third of an inning, allowing three runs and zero hits.
Bean and Colvig each drove in two runs for Kingman.
Friday
Kingman Academy 18,
Bagdad 5
Kingman Academy traveled to Bagdad on Friday and blew an early lead in the first inning. Tigers' power hitter Donald Tatham walked with the bases loaded to give the Tigers a 1-0 lead.
Bagdad came storming back with a seven run first inning, compliments of stolen bases and passed balls allowed by the Tigers to win the game 18-5.
Ryan Hurley took the loss for Kingman Academy, going three innings, allowing 15 runs on 10 hits and striking out two batters.
Tatham, Hurley, and Kannon Butler all drove in one run for the Tigers.
Softball
Kingman 12, Chino Valley 2
The big inning is what Kingman Academy is all about. They will steal a base to get their offense going as they did against Chino Valley on Saturday to win 12-2.
The Lady Tigers' Shaunti Short jumped started a seven run fourth inning with a stolen base, followed by another stolen base by Jessica Plew. That was all it took to ignite the offense as Cassidy Hobbs and Randa Short each singled.
This is the third game in which the Lady Tigers have had double digit hits. Hobbs and Kassidy each collected multiple hits.
Kingman
Academy 22,
Wickenburg 3
Kingman Academy's Cassidy Hobbs is tearing the cover off the softball. She is literally on fire as she had four hits on Saturday to lead her team to a 22-3 win over Wickenburg. Hobbs singled in the first, second, fourth, and doubled in the third inning. Chloe Elliot doubled and had a stolen base. Kingman Academy's hot batters collected 16 hits, with Hobbsm Randa Short, Shaunti Short, Elliot and Jillian Winters collecting multiple hits.
Pitcher Jessica Plew went three innings, only giving up one run on two hits and striking out four batters.
Friday
Kingman Academy 17,
Bagdad 4
In their first two games to start the season, Kingman Academy softball team has come out of the gate hitting like they will never be able to bat again. In their first game against Kingman they scored 30 runs on 23 hits.
The Lady Tigers traveled to Bagdad and put up 17 runs to win 17-4. Big innings have ignited Kingman Academy in their first two games. Friday's game was no different as they scored nine runs in the second inning and never looked back.
Cassidy Hobbs and Randa Short both had doubles. Maryssa Edwards, Kassidy Campbell and Hobbs had multiple hits.
More like this story