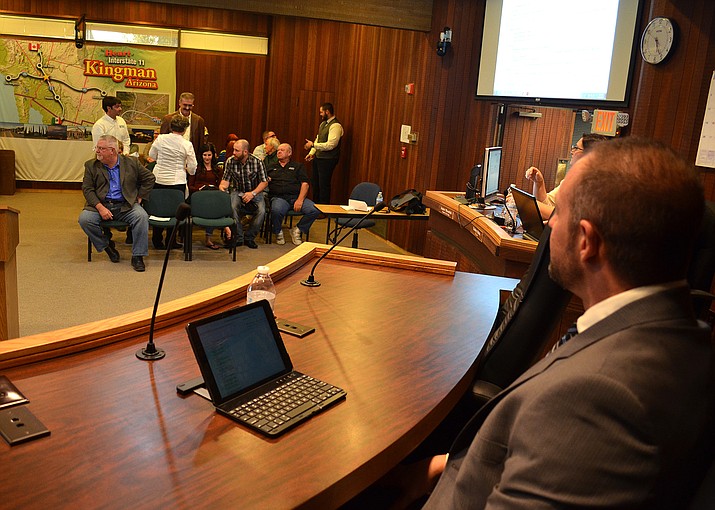 Photo by Aaron Ricca.

Originally Published: February 27, 2017 6 a.m.
KINGMAN – The Kingman City Council seat vacated following the resignation of Mark Abram is open and there isn't much time to fill it.
Abram tended his resignation to the city last week and it was effective Friday. Abram, general manager of Frontier Communications, will be relocating and the resignation is due to his career.
City council on Tuesday formally accepted his resignation and set dates to begin filling the vacancy. Under Arizona law, the council must fill the vacancy by appointment.
Members of the council wished him well and immediately began starting the process to find a new councilor.
In the past, the city has requested applicants to submit letters of interest and rèsumès and will do so again until 5 p.m. March 14. Councilmembers will review the applications as they come in and conduct interviews during a closed session March 21.

"If there's a clear candidate they can make a motion right there (in open session) or go back into an executive session and make a decision," said City Clerk Sydney Muhle, who will post a running list of applicants on the city's website.
Qualifications for the job include being a U.S. citizen age 18 or older, an Arizona and Kingman resident for at least 29 days, have the ability to sign his or her name or make a mark on the application or government document, and be a registered voter.

"We certainly look forward to getting new candidates," said Mayor Monica Gates.
The appointee would finish Abrams term and have to campaign for a full term in 2018, should they wish to go that route.
For more information on how to apply for the council position, visit www.cityofkingman.gov, or the City of Kingman Facebook page.
In other council news:
• Council agreed (along with Mohave County Board
of Supervisors earlier in the day) to an intergovernmental agreement to share costs with the United States Geological Survey for a three-year hydrology study. The study is estimated at $450,000 and proposes to assess the potential impacts of withdrawals on the Hualapai Basin aquifer.
Council granted four liquor license applications including a patio license extension at Black Bridge Brewery and location transfer for Byers Liquor to 2104 Kingman Ave. (former location of Circle K).
To view the meeting online, visit www.cityofkingman.gov.