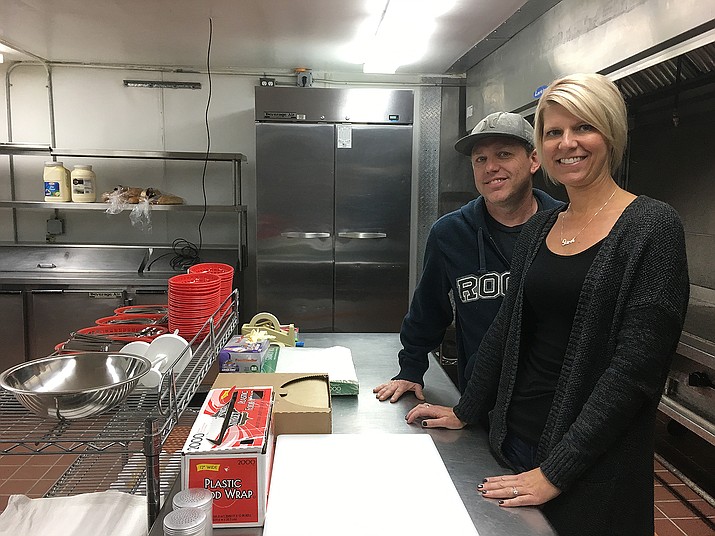 Photo by Hubble Ray Smith.
Originally Published: February 27, 2017 6:01 a.m.
After sitting vacant for a couple years, the former BJ's Monkey Butt tavern at 4400 Stockton Hill Road has reopened as the Sundowner under new owners Craig and Terri Bouchard.
Craig Bouchard, who also owns the Cattle Crossing Saloon in Golden Valley, said he's invested more than "six figures" into renovating the Sundowner and bringing it up to health department standards.
He put in new lighting, new back bar and equipment, new dance floor, completely remodeled the kitchen and bathrooms, painted inside and out and got rid of that awful sewage smell that patrons complained about.
"There were a lot of problems." Bouchard said. "We thought it was sewage backup, but it was negative air pressure and problems with ventilation. Significant changes have happened here."
Bouchard said he used a Daily Miner article from 2014 about health code violations at Monkey Butt as a guide for correcting the problems.
The bar was slammed with a litany of violations, including ant poison near liquor bottles, lipstick and fingerprints on glasses, uncovered and undated food in storage.
Pigeons were nesting in the evaporative cooler on the roof, and their feathers and feces were falling into the food preparation area.
"It was a vacant building for two years, so it was in pretty bad shape," Terri Bouchard said. "Neglect over two years will take its toll."
The place has been cleaned up, a ton of garbage has been removed from the property and a smoking patio has been added in the back.
Bottled beer is $3.50, call drinks are $5 to $6 and a bar menu advertises $10 lunch specials for a 9-inch steak or hot pastrami sandwich, French fries and soft drink.
The bar's estimated yearly revenue as Monkey Butt was $144,000, according to Salespider.com.
Kingman Square
The Safeway-anchored Kingman Square shopping center, 3115-3155 Stockton Hill Road, is undergoing a $529,000 façade renovation project, with TR Orr as the general contractor.
When completed in the summer, the renovation will bring new storefront signage throughout the shopping center, all concrete sidewalks will be replaced and a new tenant monument sign will be constructed on Stockton Hill Road, as well as a freeway pole sign at Interstate 40 at Stockton Hill Road.
"We are hopeful that Safeway will be joining us on this rehab very soon, so the entire center will look fresh," said Bret Borg, president of Borg Property Managers in Mesa. "All of this construction activity has generated tremendous interest from new national and local businesses looking to occupy this shopping center."
The center has seen several stores close in the last couple years, including Radio Shack, Hallmark and Hastings. The former Kingman Co. Steakhouse restaurant has been razed.
Luchia's closing
Luchia's Jewelry Gallery, a longtime Kingman jewelry store at 3880 Stockton Hill Road, is closing and going out of business. All merchandise has been discounted up to 70 percent.
Store owner Myron Storing Jr. learned stone-cutting and making jewelry from his parents, Luchia and Myron Storing, and opened Luchia's Jewelry Gallery in 2005. He built his business on honest, lasting relationships with his vendors, and his client base grew throughout the tristate area.
Startup flights
American Airlines began nonstop daily service from Laughlin-Bullhead City International Airport to Phoenix on Feb. 16, with daily departures at 1 p.m. and arrivals at 12:20 p.m.
Mohave County Supervisor Hildy Angius, who represents Bullhead City, said she flew the American Eagle flight and it took just 50 minutes to get to Phoenix, as opposed to a 4½-hour drive.
She showed a video clip at the Feb. 21 Board of Supervisors meeting showing the 70-passenger Bombardier CRJ700 taking off from Bullhead City, along with interviews of passengers who said it was more convenient than flying out of McCarran International Airport in Las Vegas.
Public Works Director Steve Latoski said it was easier getting in and out of the Bullhead City airport than the Kingman Walmart.