Originally Published: February 28, 2017 6 a.m.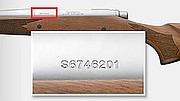 Where to find your Serial Number
The rifle's serial number is located where the barrel meets the receiver (for a right handed rifle, the serial number is located on a user's left, and for a left handed rifle, the serial number is located on a user's right).
It is the most popular rifle ever made in America. There are an estimated 7 million Remington Model 700 rifles out there - and now Remington Arms has issued a product safety warning and recall notice for them, along with another rifle in its firearms line, the Model Seven.
If you are one of the many people who watched the television show 60 Minutes a few weeks ago, I'm sure you were alarmed at the report that a rifle that many local sportsmen own may be defective and can fire without the trigger being pulled.
But before you take your rifle to a local pawn shop, like Paul Harvey used to say, you need to know "The Rest of the Story."
And after doing a lot more reading on the subject, it appears that 60 Minutes reporters left a lot of information out of their report (Surprise, surprise).
Check for yourself by going to the Remington website for some information provided by Remington to the show's producers that I'm sure you'll find interesting.
Visit https://www.remington.com/news/2017/remington-responds-60-minutes
But it's worth noting that the company, which was founded in 1816, and has been mass producing the Model 700 bolt action rifle for about 50 years, has issued a statement that will cause some Remington rifle owners to question if their rifle is really safe.
The notice says, "Remington has determined that some Model 700 and Model Seven rifles with XMP triggers could, under certain circumstances, unintentionally discharge. A Remington investigation has determined that some XMP triggers might have excess bonding agent used in the assembly process. While Remington has the utmost confidence in the design of the XMP trigger, it is undertaking this recall in the interest of consumer safety to remove any potential excess bonding agent applied in the assembly process."
Remington started the recall for rifles that were equipped with the XMP (X-Mark Pro Triggers) that were manufactured from May 1, 2006 through April 9, 2014.
Remington said they have replaced about 350,000 triggers in those select rifles.
I was very interested in this recall as I own both a Model 700 rifle and a Model Seven rifle.
There are a number of ways to find out if your rifle is one of those that needs to be sent back.
First and foremost, if your rifle has a smooth trigger face, then it most likely will need to be sent back.
However if the trigger is ribbed or serrated, then there is no recall. Fortunately, both of my rifles have the ribbed or serrated triggers, and a check on the Remington website also showed that they did not need to be returned.
If you are a Remington Model 700 or Model Seven owner, here is what you need to do:
Find the rifle's serial number located where the barrel meets the receiver.
Then go online and send the serial number to xmprecall@remington.com or call them at 1-800-243-9700. You will be told if your rifle is subject to the recall. If it is, Remington will send you all the supplies you'll need to send it back to them, postpaid.
I'm sure there are a lot of these rifles in Kingman and throughout Mohave County.
It is worth your time to check your rifle just to make sure that it is not among those that need to be sent back.
Here is something else you need to be aware of. As part of the settlement that Remington made, they are also offering a gift certificate worth $10 to $12.50 to owners of certain Remington rifles and will do some repairs on others.
If you own any of the following models of Remington rifles; Sportsman 78, 673,710, 715, 770, 600, 660, Xp-100, 721, 722 or 725 you need to download a claim form. You can get the forms by going to remingtonfirearmsclassactionsettlement.com
Remember, safety is no accident