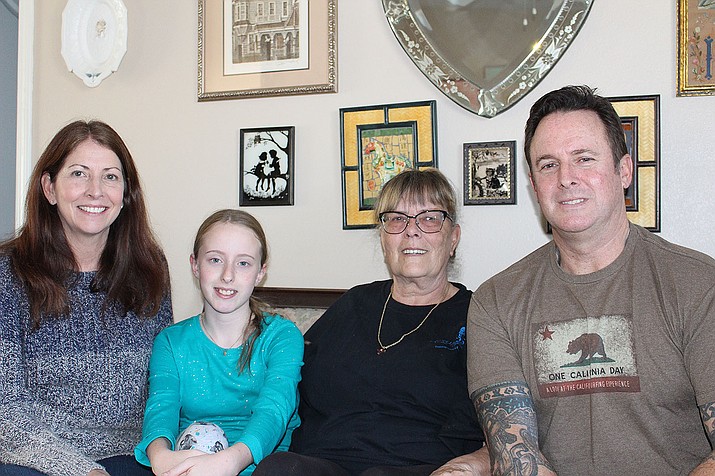 Photo by Hubble Ray Smith.
Originally Published: January 1, 2017 6:02 a.m.
GOLDEN VALLEY – Sharyn Polacek's best Christmas present wasn't purchased in a store, gift-wrapped and placed under the tree. It was spending her first Christmas with the son she had given up for adoption at birth 53 years ago.
She met the man, Walt Bagnall, for the first time a little over a year ago in Las Vegas, neutral territory for the family originally from the Los Angeles area.
"When I gave him up, I never looked at him or touched him for fear that I would change my mind for what was best," Polacek said during an emotional interview at her home in rural Golden Valley, her burly, tattooed son seated in a nearby chair.
"My father was an alcoholic, and I was 17 when I got pregnant."
Polacek said she tried to find her son in the 1970s, contacting Memorial Hospital where he was born, but because it was a "closed" adoption, the records were sealed. Laws were later changed to make it easier for adopted children to locate their natural parents.
Bagnall, a firefighter in Seattle, made it his mission to track down his birth mother after both of his adoptive parents passed away. He wanted to at least give them that much respect.
"I tried petitioning the courts in Los Angeles and received everything but names," Bagnall said. "I had health information and some ethnic background information, but no names. They said the records were closed."
Bagnall went through online adoption finders and ran into dead ends. They gave him the same information without names.
"I knew the when and where. I wanted to find out who," he said.
Bagnall's wife, Byrni, talked him into hiring "Troy the Locator," a private investigator they'd seen on television, for $1,500. Troy found Polacek's youngest son on Facebook, messaged him that he's trying to find his mother and left a phone number. It all clicked from there.
"We want other people to know that it can be done," Byrni said. "He (Bagnall) was born on Friday the 13th, so it's our lucky number."
Polacek said she received a call from one of the investigator's staff who asked her if she was familiar with the name of the birth father of her child.
"Right there, I knew. I don't know what happened. I might have had a nervous breakdown. I settled down and called back and asked her if he knew that he had found me," Polacek recalls of making the connection.
She opted to have her husband, Gary, make the initial call. Bagnall was working the nightshift, so they left a message.
"We were having our afternoon coffee," wife Byrni recalled. "He hung up the phone with tears in his eyes and said, 'I have a family.'"
After the meeting in Las Vegas, Polacek attended her son's wedding in December 2015 in Monterrey, and they met again in July in West Covina, California.
"Once we found this out, I let her know I grew up 20 miles from her in Whittier," Bagnall said. "I probably surfed with Uncle Jimmy down in Sunset Beach."
Polacek said she could have had an abortion; even though it was illegal in the 1960s, before Roe v. Wade, her family had the means.
She even had a high school friend offer to marry her.
He's the only one who saw the baby in the hospital.
"The first time I talked to him, he thanked me for not having an abortion," the mother said. "I don't believe in it."
"I put my arm around her at the wedding," Bagnall related. "I'm a surfer and I had all my friends there.
"My two best surfing buddies were at the wedding, my wife, my daughter. I said, 'Hey, Mom, look around. You did the right thing.'"