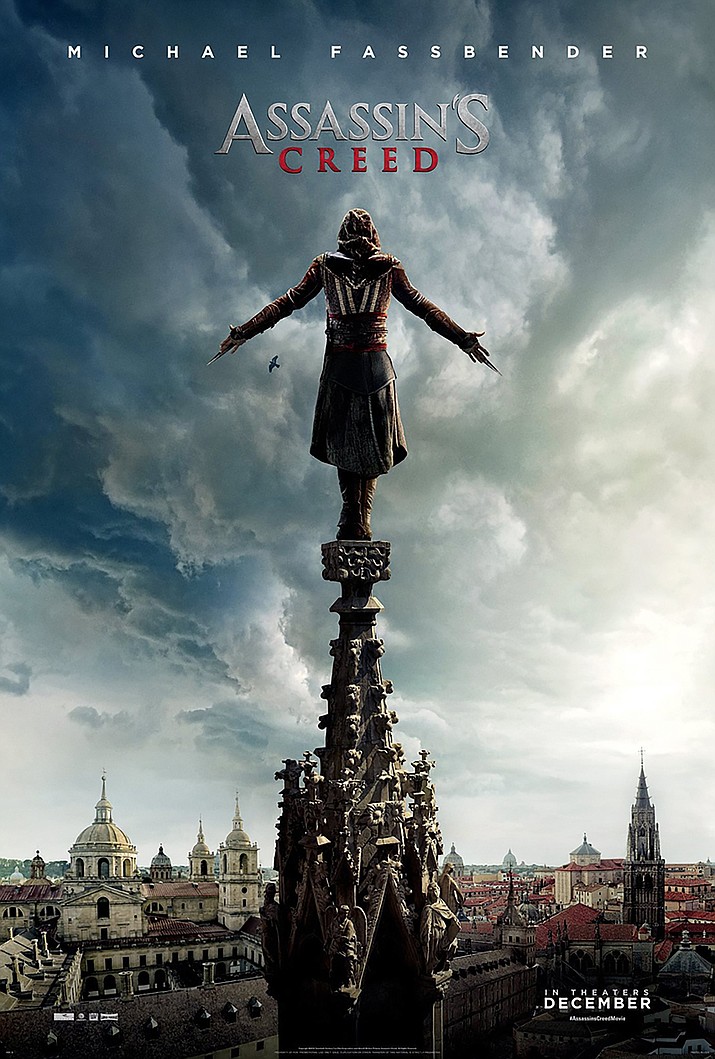 Originally Published: January 2, 2017 6 a.m.
Assassin's Creed is another movie based on a video game. I wonder if we'll see more films based on the various iterations of this new genre.
I'm not knocking it. I'm a real fan of the "Resident Evil" franchise even though I don't play the video game.
And here, too, I'm not familiar with the "Assassin's Creed" game.
But I do play video games. From watching "Assassin's Creed," I can imagine the game requires lots of jumping obstacles, getaways, Parkour and free-running.
I love the concept. Reaching back to the old psychologist Carl Jung, who theorized every person is basically reincarnated and carries with them the memories of their past lives. Sure, this is an over-generalization, but you know what I mean.
Somehow the Templars, the Knights Templar, invented a machine that can draw out those memories and put them on display for everyone to see and interact with.
Michael Fassbender plays a murderer being put to death. He wakes up and all of a sudden he is with the Templars and their machine, which is called the Animus (another reference to Jung's theory.)
But he isn't the only subject there subject to experimentation. Apparently the Templars have been assembling the descendants of a group called the Assassins, whose job it is to protect some ancient alien device.
Brendan Gleeson, Brian Gleeson and Michael Williams are among that group. Too bad the director didn't take advantage of their acting prowess to boost the film.
Jeremy Irons is the Templar leader left with not many lines and wasted talent. Marion Cotillard is the scientist heading the project. Watch her facial expressions. You can see the expectation, pain and realization come over her at different stages of the film.
If only she didn't give a Steve Urkel appearance with her pants hiked so high.
There's plenty of action scenes where Fassbender is escaping capture or fighting his nemeses, the Templars.
The movie grabs you from the beginning but frequently stalls with subtitles and mumbled lines. It's also one of the longest movies I've sat through so saddle up with a big cup of soda and a barrel of popcorn because you'll be there for two hours and 20 minutes.
It's rated PG-13 because of the fight scenes, although they were not graphically intense.
I'd give it 2 out of 4 Miners.