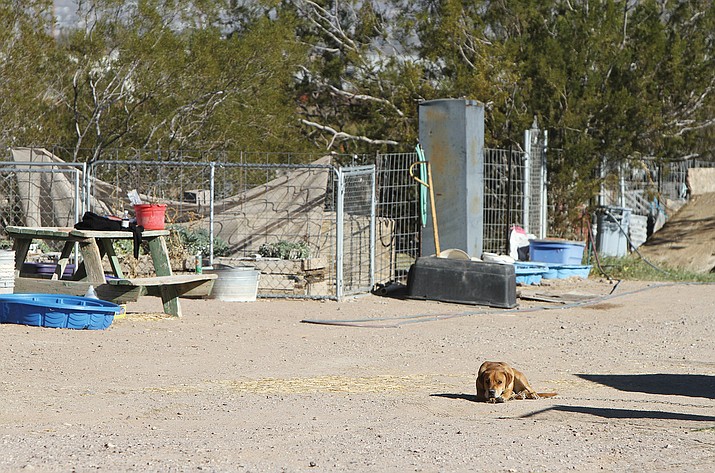 Photo by JC Amberlyn.
Originally Published: January 3, 2017 6:02 a.m.
KINGMAN – Mohave County Board of Supervisors today might authorize staff to revoke the zoning use permit for the Rescued Unwanted Furry Friends Foundation at Tuesday's regular meeting if certain health and building code violations have not been rectified.
The board meets at 9:30 a.m. at the County Administration Building, 700 W. Beale St.
Anyone wishing to address the board must fill out a request form prior to the meeting. Comments on regular agenda items are at the discretion of the board's chair.
The animal rescue sanctuary in Golden Valley was shut down by the county's Public Health Department in December, and Director Patty Mead outlined a host of problems at the board's Dec. 19 meeting.
RUFFF was given until Dec. 30 to resolve the issues, which included no handwashing sink with hot water, improper plumbing, no bedding sand in the kennels and open bags of animal feces.
Supervisor Buster Johnson wanted to immediately close down the animal rescue. He said RUFFF has been a "thorn in our side" since it opened in 2002, with the county spending thousands of dollars investigating complaints about the 40-acre property.
County officials inspected the rescue operation on Dec. 7 and began taking action regarding the health and welfare of the animals under RUFFF's care. Several departments are involved in the situation.
"We're allowing them time to improve sanitation," Mead said. "All we can do is enforce sanitation issues on the property."
Some 130 dogs and 70 cats remained on the property after it was condemned.
Christine Anderson took over as president of RUFFF after founder Hillarie Allison encountered health problems that prevented her from caring for the animals. She said about 40 dogs were adopted out.
The fate of the other animals is unclear.
According to a 2012 county resolution, the zoning use permit for an animal sanctuary on that parcel is subject to revocation upon 60-day notification if, in the opinion of the board, continued use of the property would be contrary to public health, safety and welfare.
Other items on the board's agenda:
• Acquisition of land and a well in the Wikieup area to be used for road maintenance purposes.
• Authorize Public Works reorganization to distribute essential job functions and subordinate staff of the engineering manager, Tim Walsh, who is taking over as director of Development Services.
• Request the Mohave County Treasurer to provide an investment update to the board on a quarterly basis or some other timeframe.
• Approve the appointment of Capt. Dean McKie as chief deputy sheriff at an annual salary of $113,000.
• Revenue sources, including HURF, sales tax, jail tax and overrides, and expenses for county roads and criminal justice.
• Appointment of board members to regional, state and county boards.
More like this story