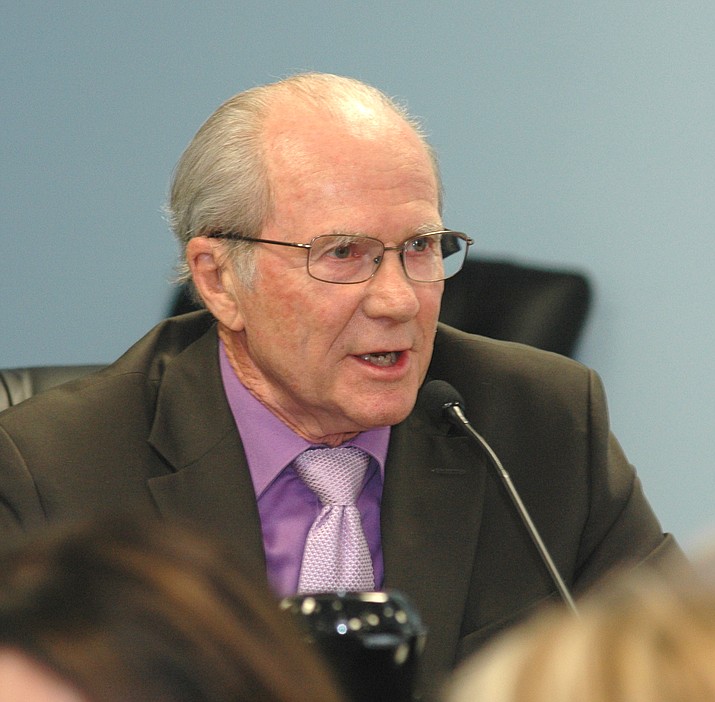 Photo by Howard Fischer, for the Miner.

Originally Published: January 4, 2017 6:02 a.m.
PHOENIX – State utility regulators swore in a new member Tuesday and elected a new chairman amid controversies that could mean open warfare on the panel.
In a ceremony filled with speeches and congratulations, Boyd Dunn, newly elected in November, was seated on the Arizona Corporation Commission as incumbents Bob Burns and Andy Tobin got new four-year terms. They join Tom Forese and Doug Little who were elected in 2014.
But Burns refused to support Forese for chairman, saying after the meeting that Forese had worked with Tobin in an improper attempt to fire a commission employee and effectively that person's supervisor to quit. That, in turn, resulted in Jodi Jerich, who has the exclusive power of hiring and firing staff, being forced out.
She was replaced by former Tucson GOP legislator Ted Vogt.
"It sent a ripple through the commission,'' Burns told Capitol Media Services. "It ruined the morale of the whole place.''
Forese said that wasn't what happened but declined to go into specifics. But he acknowledged that he was part of the decision to replace Jerich, saying that's just what happens with a change of administration.
Jerich did not return repeated calls seeking comment.
But the new allegations come on top of existing battles within the commission. That includes Burns refusing to drop his bid to find out how much of the more than $3 million spent to elect Forese and Little in 2014 came from Arizona Public Service or Pinnacle West Capital Corp., its parent company.
Burns even has issued subpoenas. The companies will neither confirm nor deny their roles in getting Forese and Little elected but are fighting the subpoenas in court.
Forese, for his part, appears anxious to put the whole issue to bed.
"Frankly, elections are elections and now it's time to govern,'' he told Capitol Media Services. He said having the commission spending time and effort on figuring out what happened in 2014 "is a tremendous distraction and a disservice to the people that we represent.''
Anyway, Forese said, Burns is obsessed with not just the 2014 campaign but also his push to forbid anonymous donations to political committees that put money into future commission races.
"If I ask you, 'What do you think about the water crisis and its coming to Arizona,' and you respond, 'Dark money,' and I ask you about telecom regulation and the possibility for there to be potential money in the kitty that can be used for education, something people are talking about, and you respond 'APS,' we have a real communication problem,'' Forese said.